Work completed at Villa-Maria station
Villa-Maria is now universally accessible
The work to install elevators at Villa-Maria station is now complete, and all three elevators are now in service. This makes Villa-Maria the 23rd accessible métro station in our network.
Project summary
Between September 2019 and November 2022, major work was carried out to make Villa-Maria station universally accessible with the addition of three elevators. Due to the station's architecture, both sides of the platforms had to be extended and the western façade of the entrance building had to be expanded.
The project involved installing the elevators and completing work such as:
Integrating a new auxiliary structure to ventilate the métro in the entrance building's expanded west side
Work to upgrade the bus loop located behind the station
Redesigning the turnstiles
Replacing the entrance building's butterfly doors, some of which are now motorized, for easier access to the station.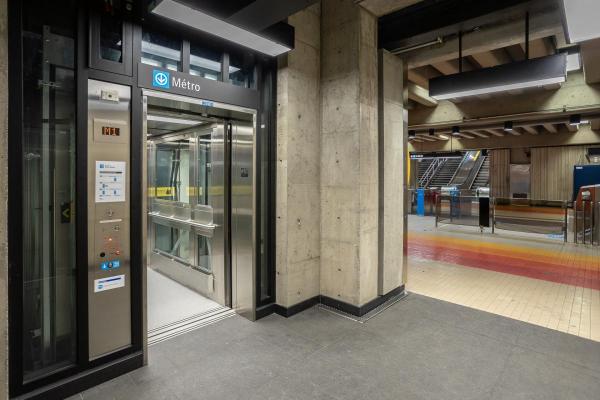 New artwork integrated at Villa-Maria station
Created by artist Marianne Chevalier during accessibility upgrades at the station, La Correspondance des strates artwork is composed of geometric and organic shapes of various sizes and colors, arranged above the four openings leading to the elevators connecting the walkway to the station platforms. The artwork's vertical sections illustrate the movement of the elevators and the horizontal sections, that of the trains. This artwork acts in symbiosis with the large molded dials originally designed by architect André Léonard.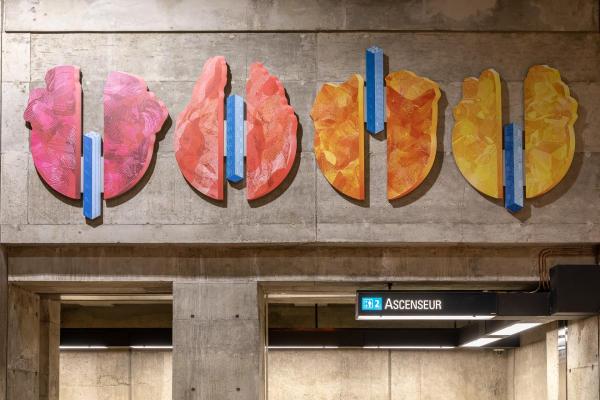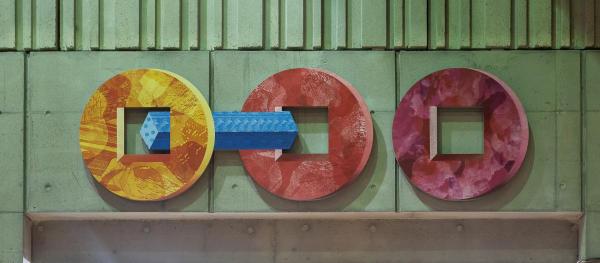 Impact on customer trips
The work is now complete and the interior and exterior partitions on the Décarie Street side of the entrance building have been removed. There are no longer any obstructions inside the station, and the door on the Décarie side is once again open to customers.
Impact on local residents
Accessibility work at the station is complete, and there are no longer any obstructions or impacts for local residents.
The worksite in images
Integrating elevator shafts into an existing métro station requires major work in several stages. Here are some photos of the site from December 2021 showing the work to integrate elevator shafts and install electrical and mechanical equipment.
Following the bedrock excavation and the concreting of the elevator shaft that connects the mezzanine to the Montmorency platform, the assembly and mechanical installation of the elevator could begin.
An opening was made in the northern wall of the station to allow the integration of the elevator that now connects the mezzanine to the Côte-Vertu platform.
The access to the elevator shaft connecting the mezzanine to the Montmorency platform has been built, and the next step is to install the electrical components for the control and motorization of the elevator.
The project in images
---
The Accessibility program is made possible thanks to the additional funding announced by the federal and provincial governments to speed up universal accessibility work with the goal of having 30 accessible métro stations by 2025.
Top of page