---
Towers MVS project wins CUTA Innovation award
The STM is proud to have won a CUTA corporate award for this one-of-a-kind project, which preserved the heritage aspect of a downtown building while incorporating essential métro network equipment inside the infrastructure.
What is the CUTA Innovation award?
This award honours businesses and transit organizations that focus on technological innovation or innovation through non-technical programs, activities, service delivery, accessibility and product/service development. 
Learn more about the awards that the STM won at the 2022 CUTA annual conference
Towers mechanical ventilation station
Project summary
As part of our program to refurbish our métro facilities and equipment, a new mechanical ventilation station (MVS) was built on Towers Street in Montréal. The work began in 2017 and was completed in fall 2021.
The part of the green line in this sector was previously served by a different MVS. Built in the late 1960s, this ventilation station had reached the end of its service life and had to be replaced.
The new MVS is quieter and more efficient, in addition to complying with new safety standards and City of Montréal noise by-laws.
A unique project
The new Towers MVS was built in the middle of downtown, behind the facade of a Victorian house  that had fallen into disrepair. After acquiring the building, the STM worked hard to preserve its heritage features while assembling a large amount of complex technical equipment inside the infrastructure. The project proved a great example of the creative problem-solving required to integrate new métro network equipment, given the context of scarcity of available land in downtown Montréal.
The Towers MVS was built behind the facade of a Victorian house in downtown Montréal.
The two-storey house was partially rebuilt and expanded belowground and now contains a high-capacity ventilation shaft, as well as mechanical rooms.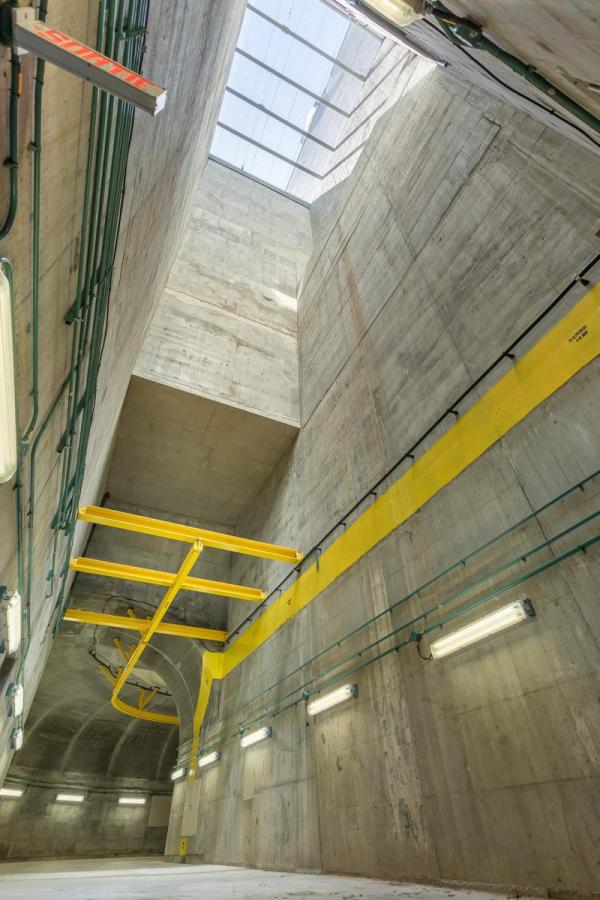 Compared to what can be seen from the surface, the Towers MVS is six times larger underground!
In addition to the house's two storeys, four levels were built belowground, which required the excavation of over 10,000 cubic metres of soil and rock.
The facade was entirely restored to preserve the building's heritage features. Each individual stone was removed and numbered, then reinstalled on the front of the building.
Texte important
Infrastructure maintenance and updates
To ensure safe, reliable service, we need to keep our network's infrastructures in good condition. This means investing heavily in maintenance and updates, which we will continue doing over the years to support our vision of excellence in mobility.
A mechanical ventilation station is an infrastructure located between two métro stations that is equipped with two fans designed to extract hot air from the métro network through inlets fitted with air vents.  The new ventilation stations extract around 240,000 cubic feet per minute. Huge noise suppressors mitigate the noise from these fans to ensure quiet for residents living close to a ventilation station.
Mechanical ventilation stations serve three essential purposes:
1. Comfort ventilation
Regulates the ambient temperature and supplies fresh air for transit users by exchanging air from the outside with air inside the métro network.
2. Night-time ventilation
Ensures a supply of fresh air for night workers carrying out routine maintenance.
3. Emergency ventilation
In the event of an incident, controls smoke and provides a safe evacuation route for passengers via the nearest métro station and ensures unobstructed access for emergency first responders.
The finalized project in pictures
Photo credits: Julien Perron-Gagné
---
This work is made possible through funding from the Ministère des Transports du Québec.
Top of page