Work at Laurier station
Project summary
Work will soon be carried out near the north entrance building of Laurier station to replace the pipes supplying water to the métro station. A worksite will be set up at the corner of Laurier and Berri to perform the excavation work needed to access the pipes at this location.
---
Duration of the work : June 12, 2023, to late August 2023
Description of the work : Replacement of pipes supplying water to Laurier station
Métro impacts : The station will remain open at all times.
Bus impacts : No
Impact on customer trips
Texte important
The station will remain open during the work.
This project will have no impact on customer trips.
---
A worksite will be set up at the corner of Berri and Laurier, near the station's north entrance building. See the following tab for more information.
Impact on local residents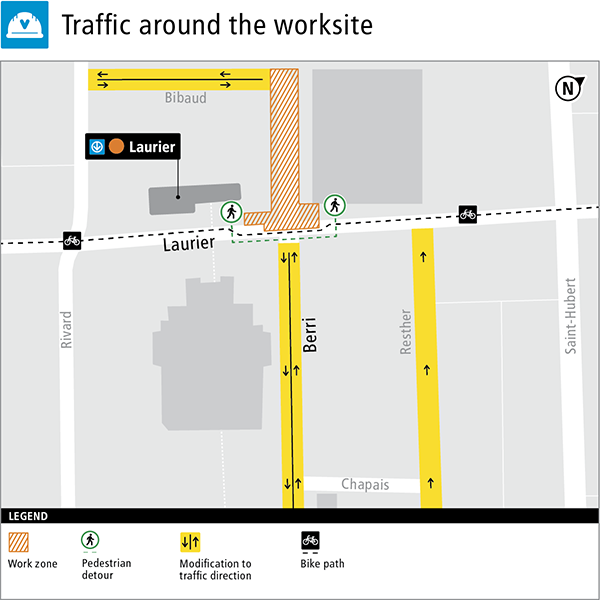 Impacts on traffic
Laurier Street East will be closed to traffic at the corner of Berri.
Detours will be set up on nearby streets, indicated by signs.
Local traffic will be allowed on streets near the worksite, except on Berri Street between Laurier and Bibaud, which will be closed to traffic during the work.
Traffic will be allowed in both directions on Bibaud, and Berri between Laurier and Saint-Joseph.
Direction of traffic will be reversed to run northbound on Resther Street between Laurier and Saint-Joseph.
Street parking
Parking restrictions will be in place on Berri Street south of Laurier, as well as on Bibaud Street. Read signs carefully.
Impacts on pedestrians and cyclists
During the work, pedestrians will need to walk on the south side of Laurier Street at the corner of Berri.
A marked passageway will be set up for cyclists to travel through the area and avoid the worksite.
Exterior work will be carried out according to the schedule authorized by municipal by-laws, from 7:00 a.m. to 7:00 p.m. on weekdays. Some work will have to be done over a few nights to finish connecting the water pipes to the station. We will provide you with advance notice of all information regarding the work via our electronic newsletter and on this web page.
Noise and vibrations
The work will be done in compliance with all municipal by-laws. However, you may hear some noise and feel vibrations around the worksite during drilling and excavation work.
Water shut-offs
Water shut-offs may occur in the area around the worksite during the work. In this situation, you will receive a printed notice 48 hours in advance to help you prepare.
Dust
Anti-dust sheets will be installed on all the worksite partitions to limit dust dispersal.
Sidewalks and access
Pedestrian access to buildings will be maintained at all times. Sidewalks may be blocked occasionally. In this event, pedestrian detours will be implemented.
If you have any other questions regarding this project, please contact STM customer service at 514-786-4636.
If you live near the worksite and are planning a move, delivery or home renovation, we encourage you to contact us as soon as possible to facilitate coordination with the work.
Fill out the form and please provide the following information:
Your name
The expected date of your move, delivery or home renovation
Whether it is a move, delivery or home renovation
Your address
Your phone number
We care about the quality of life of residents living close to our facilities. Rest assured that we will take all measures necessary to keep the impact on residents, businesses and customers to a minimum.
Learn more about the project
This project includes the following phases:
Excavating to access the water mains and water supply system at Laurier station.
Drilling and replacing water pipes that connect to Laurier station.
Performing overnight work inside the station to access various equipment and connect the water pipes.
Paving of streets and sidewalks and completion of work.
Top of page