Jolicoeur: our 25th accessible station!
Elevators are now in service at Jolicoeur station to make your trips easier.
Integrating elevators into a métro station involves a number of steps. Due to the particular architecture and layout of Jolicoeur station, we had to expand the entrance building on both sides to add the two new elevators. They are located on the De Sève Street side and connected to the mezzanine level via interior corridors. The red marquee was also extended. In addition, we built a new curtain wall—a wall made entirely of glass—while preserving the station's unique architecture.
The two existing natural ventilation shafts were expanded, as a portion of their space was taken up by the new elevators, and two new ventilation shafts were added on Jolicoeur Street.
New artwork
Created by artist Chloé Desjardins, the piece was installed during accessibility upgrades at the station. Titled Perspective, the sculpture reflects the opposition between transparency and opacity, as well as some of the principles developed by celebrated German architect Ludwig Mies van der Rohe, whose international style influenced the architect of Jolicoeur station, Claude Boucher.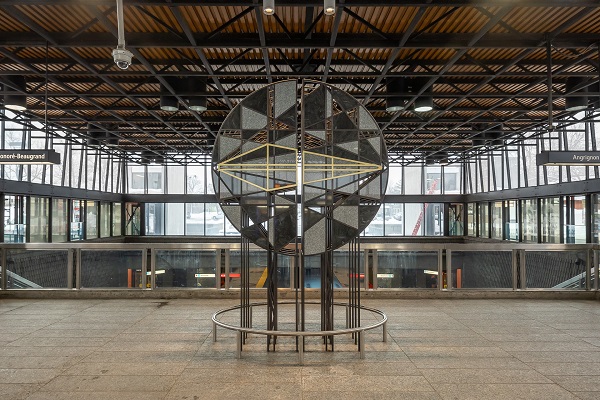 ---
The Accessibility program is made possible thanks to the additional funding announced by the federal and provincial governments to speed up universal accessibility work with the goal of having 30 accessible métro stations by 2025.
Top of page