Construction of the Bercy mechanical ventilation station
Project summary
As part of our program to refurbish métro infrastructure, we started construction on the Bercy mechanical ventilation station located on Bercy Street, between Hochelaga and Rouen streets, in May 2020.
There is already a station on Hogan Street. Built during the second half of the 1960s, the station has now reached the end of its service life and must be replaced. Our project involves building a new, quieter and more efficient ventilation station that meets the new safety standards and complies with City of Montréal noise by-laws.
---
Duration of the work: May 2020 to fall 2023
Description of the work: Construction of a new mechanical ventilation station
Métro impacts: No
Bus impacts: No
Impact on customer trips
The project has not impact on customers trips.
Impact on local residents
Access to Hochelaga Street from Bercy Street will be blocked.
Access to the residences will be maintained at all times.
Impact on traffic
Only local traffic will be allowed in both directions on Bercy Street, between the worksite and Rouen Street.
Flag persons will be present at the worksite when trucks enter or exit and at the intersection of Bercy and Rouen when students arrive at or leave Saint-Anselme School. A crossing guard will also be present, as usual.
Parking spots located in the worksite will be removed during the work.
A traffic light will be added at the corner of Bercy and de Rouen.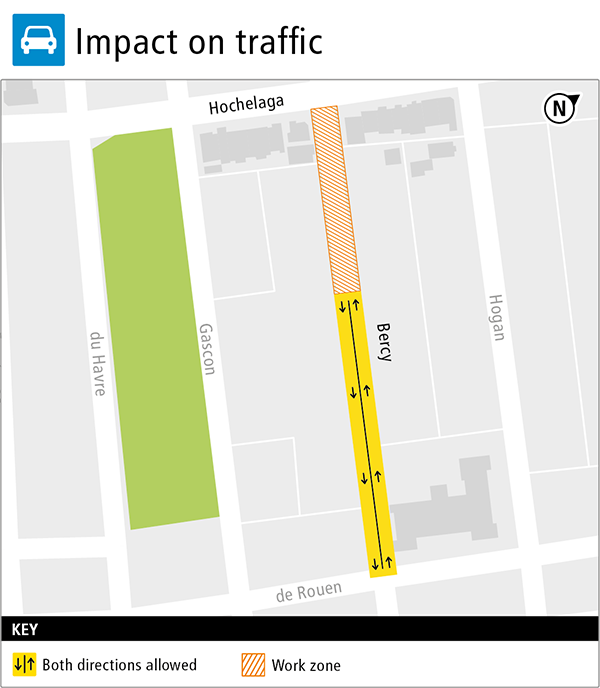 Worksite information
If you live across from the Bercy mechanical ventilation station worksite and are planning a move, delivery or home renovation over the next few weeks, we encourage you to contact us as soon as possible to arrange access to your building.
Fill out the form and please provide the following information:
Your name
The expected date of your move, delivery or home renovation
Whether it is a move, delivery or home renovation
Your address
Your phone number
Significant measures have been taken to ensure the safety of both nearby residents and workers:
The crane is an electric model, which creates less noise than the diesel-powered mobile cranes and produces no exhaust gas.
The crane will not be used when weather conditions are unfavourable.
When not in use, the crane will be left in "weathervane mode," allowing it to pivot freely on its axis in strong winds. If you see the crane turning while the worksite is closed, this is normal!
The crane will be equipped with a "zoning system." This electronic system allows the crane to be programmed with boundaries that stop it from lifting or moving a load into preset zones. The boundaries will be applied to the entire perimeter of the worksite to ensure that no lifting takes place over nearby homes or public areas. If lifting in a public area is necessary, a safety perimeter will be set up with a flagger present to redirect the flow of pedestrians and vehicles.
Given the closure of Bercy Street and the presence of the construction site on the portion of the street between addresses 2320 and 2405, a procedure was established with the city to ensure the smooth running of the weekly waste collections.
Waste collection and collection of recyclable materials:
All waste or recyclable material must be in bags, with the exception of bulky items (furniture or household appliances). We ask that you use garbage or recycling bags as appropriate;
Large bins will be placed on the sidewalks along the site during the collection days. Please deposit your waste and recyclable materials in these bins;
On the morning of the collection, we kindly ask you to deposit your bags in the large bins before 7:30 AM to allow us time to pick them up before the city's collection.
Collection of food residues:
Food waste bins can be placed on the sidewalk as usual on the morning of collection. However, we ask you to bring your bins to the sidewalk before 7:00 AM to allow us sufficient time to manage them before the city's collection;
Please identify your brown food waste bins with your door number to facilitate its return to you.
1. Preparation of worksite
Fencing off the worksite
Setting up the worksite and installing equipment
2. Excavation at ground level
3. Excavation in the rock bed
Micro-blasting will be required to break into the rock bed.
4. Installation of a membrane to ensure watertightness of all infrastructures
5. Concrete work for ventilation station
Concrete work for all infrastructures
6. Installation of mechanical and electrical equipment, as well as architectural finishes and exterior design
Delivery of equipment to worksite
Installation of equipment
Performance testing on mechanical equipment
Construction of ventilation station's external structure
Any construction work likely to generate noise will be scheduled between 7 a.m. and 7 p.m., Monday to Saturday, in accordance with municipal regulations. While the major part of the work will take place Monday through Friday, it may be necessary for it to continue on Saturdays and possibly, but more rarely, on Sundays in order to meet the project deadline. Should this happen, weekend work will be announced in the Works section of the STM's website and an electronic newsletter will be sent out to subscribers.
When possible, electric cranes and compressors will be used to reduce noise and CO₂ emissions.
Noise from the site will be reduced by means of acoustic barriers varying heights made of wood and filled with acoustic insulation. These barriers will be placed strategically on the fences around the edge of the worksite during different work phases, based on noise simulations produced by an expert company.
Excavation work will produce vibrations that may be felt by residents living next to the worksite. We have hired an independent consulting firm to survey (photographs) the buildings located within a 50-metre radius of the worksite. The inspections will serve to document the condition of buildings before and after construction. In the unlikely event that any damage is reported, an expert opinion could help determine whether the damage is the result of the vibrations produced by the project.
A traffic and signage plan was prepared by a specialized firm and coordinated with the Ville-Marie borough and the City of Montréal. The plan will minimize the impact of the project on vehicle, cyclist, pedestrian and emergency services movements.
Once the ventilation station is operational, the noise it emits will comply with municipal by-laws.
The fans are installed below ground level and equipped with powerful noise suppressors. The noise level outside the building will not exceed 50 decibels, even when the ventilation station is operating at full capacity, which is unusual. The station's noise level will be comparable to that of a household dishwasher. In fact, it will be so low that normal conversation or ambient noise could easily cover it.
We are aware of the inconvenience that this work might cause. Rest assured that we will do whatever we can to minimize its impact on you.
Learn more about the project
A mechanical ventilation station is an infrastructure located between two métro stations that is equipped with two fans designed to extract hot air from the métro network through inlets fitted with air vents. Ventilation stations built for the original métro network extract around 60,000 cubic feet of air per minute, while the new ventilation systems extract around 240,000 cubic feet per minute. Huge noise suppressors mitigate the noise from these fans to ensure quiet for residents living close to a ventilation station.
Mechanical ventilation stations serve three essential purposes:
Comfort ventilation
Regulates the ambient temperature and supplies fresh air for transit users by exchanging air from the outside with air inside the métro network.
Night-time ventilation
Ensures a supply of fresh air for night workers carrying out routine maintenance.
Emergency ventilation
In the event of an incident, controls smoke and provides a safe evacuation route for passengers via the nearest métro station and ensures unobstructed access for emergency first responders.
No. Essentially, a mechanical ventilation station exchanges the air inside the métro that transit users breathe with outside air, ensuring a constant supply of fresh air.
There are no contaminants in a mechanical ventilation station. Rainwater or snow falling into the ventilation shaft will be collected by the métro's water-pumping system and released into the municipal sewage system, as is currently done throughout the métro network.
---
This work is made possible through funding from the Ministère des Transports du Québec.
Top of page