A heart in motion
Montrealers: Get on board and show your support by joining the A heart in motion movement. Together, let's honour the STM's employees and everyone else, like them, who continue to care for Montréal during this difficult time.
Join the movement!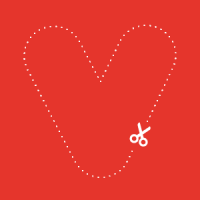 Support them by printing, cutting out and putting on your heart, and wearing it when you take public transit to show them that they are making a difference.
You can also show your solidarity on Facebook by adding our heart to your profile picture.
Wear a heart for…
By showing up every day, they make all the difference to the thousands of people who depend on them to get from place to place. Meet some of the STM's front-line employees.
There to provide essential trips
 "For me, human beings come first. I work for Transport adapté because I love people," says Annie Daudelin, a minibus driver for our paratransit service, about her choice of career.
Paratransit customers and drivers come into close contact, for example, when drivers have to fasten and unfasten the tiedowns that keep a customer's wheelchair in place. "At the beginning, I definitely questioned my ability to get through a crisis like this," Anne admits, "but I quickly realized that I had to help out."
Transport adapté drivers provide customers with safe transit for essential, even crucial, trips. During each trip, they take the necessary measures to prevent all contamination, for them and their customers alike.
To get customers from place to place, Transport adapté uses minibuses in addition to accessible vehicles and sedans from intermediate taxi services. As they have more space for passengers, minibuses like Annie's usually transport more than one customer at a time. However, due to the health crisis, adjustments have had to be made to reduce contagion risks. This includes limiting trips to one customer per vehicle. Annie takes a philosophical approach to this new reality: "It allows me to devote all my attention to each customer and each trip," she explains, a testament to the human connection aspect that drives her work.
In Transport adapté minibuses, drivers must fasten and unfasten the tiedowns that keep wheelchairs in place during transit.
Always there, all the time
"At the beginning, it was unreal. I felt like I was in another dimension." Carmen Durocher, a station agent at Berri-UQAM, was on the front lines at the fare booths in March when thousands of Montrealers made their one-way trip home and the métro kept on running for essential workers.
"There may not be many customers these days, but people still have questions about their trips, and we still have to be there for them. When I go to work, I feel useful!" she says with pride.
Berri-UQAM is the busiest métro station in the network and is home to one of the 16 Espace client booths, all of which are temporarily closed. "Right now, I can't provide all the after-sales services that are normally a plus of my job. I like interacting with the public and keeping busy—I didn't choose to work in this station for nothing!"
Despite the glass pane separating her from customers, Carmen, whose partner is a bus driver, always takes the time to chat with everyone who comes by. "I take interest in people and I think they pick up on that. For some, it's their only human contact all week." Thank you, Carmen, for being there.
Carmen Durocher, station agent at Berri-UQAM
Keeping bus service going, whatever the circumstances
"Since mid-March, things have been like never before. We've had to adapt to new realities almost every day." That's how Pierre Boily, bus network operations supervisor, sums up his day-to-day. However, after 24 years at the STM and 12 as operations supervisor, Pierre is no stranger to change: he enjoys it, and it's part of his job.
Pierre works ten hours a day, including six hours on the road. "I'm used to responding quickly when bus lines have to be rerouted due to obstructions. It's important to let drivers know and make sure that buses don't get behind schedule." These days, Pierre has to make adjustments as a result of new measures such as sidewalk widening on major streets served by buses. He also analyses the most crowded lines and deploys backup buses to ensure that passengers can maintain physical distancing.
"We have to adapt to circumstances in order to be there for our customers. The other day, a woman came up to my service vehicle and said, 'Thank you for the services you provide.'" Her words made me very happy and, of course, were meant for all my colleagues on the job."
Pierre Boily, operations supervisor for our bus network, in front of the Mont-Royal bus garage on Avenue du Mont-Royal.
Extra alert and in protection mode
In these times of crisis, maintenance work is crucial and can have huge implications for customers' and drivers' health. "We have to complete our work rigorously and pay attention to every detail," says Emmanuel Damianos, aware of the importance of his work. "Naturally, we've had to make changes to our work routines and stay open to new safety regulations, which are constantly evolving."
Over the last few months, bus garages have seen major changes. Markings on the ground indicate specific routes for employees to take, tasks are carried out more individually, break times have been revised to prevent gatherings in break rooms, and new colleagues have joined to help with sanitization. "The distancing measures have definitely affected our sense of team spirit and camaraderie. Right now, we have the rather strange feeling of being alone while surrounded by our colleagues."
Despite the extraordinary situation, Emmanuel stresses that everyone at the bus garage has gone into protection, not panic, mode, becoming extra alert and facing change with a positive attitude. Each day, these employees help STM customers reduce their risk of contamination on public transit.
Emmanuel Damianos, maintenance employee at the Mont-Royal bus garage.
Wearing the heart…
Shows not only your solidarity but also your commitment to follow hygiene rules and protect those around you:
Sneeze into your bent elbow or upper part of your arm.
Wash your hands regularly with soap and water for at least 20 seconds or use an alcohol-based hand sanitizer.
Hand sanitizer dispensers are being installed in 126 entrance buildings and 50 public access points in the métro network.
When possible, maintain physical distance by spreading out on platforms and in métro cars.
Wearing face covering is mandatory in buses, métro stations and cars .
Let's work together and take care of each other!
Top of page