The STM will contribute $81,496 to the four charities that it is sponsoring as part of its generosity campaign.
Montréal, October 18, 2018 — After holding its first garage sale last weekend, the Société de transport de Montréal (STM) is pleased to announce that it will contribute $81,496 to the four charities that it is sponsoring as part of its generosity campaign. Centraide of Greater Montréal, PartenaireSanté Québec, Red Cross — Quebec chapter, and the Réchaud-bus will all receive equal shares of the sale's profits.
"The garage sale's success exceeded all our expectations and allowed us to mark the 52nd anniversary of the métro in a particularly festive way this year. We are delighted to have been able to offer Montrealers and STM employees the opportunity to purchase some 4,000 vintage items that were available. This unprecedented event showed us once again how attached customers are to their public transit system!" declared Philippe Schnobb, Chairman of the STM Board of Directors.
The garage sale was planned in preparation for the upcoming demolition of the Bellechasse garage to make room for a new bus garage. Among the various items that were put up for sale were fare boxes used on buses for about 100 years, small bus route signs posted at the front of buses, parts from MR-63 cars recently retired from service, and signage taken down from certain métro stations in recent years, including platform banners. These last items were particularly popular with Montrealers and were swept up in a matter of minutes.
"It was such a success that we could eventually consider holding another garage sale as more vintage items will be removed from the system, especially with our current and upcoming renovation projects. This initiative, which is also part of a sustainable development approach, is a good example of how objects can be given a second life!" said Luc Tremblay, Chief Executive Officer of the STM.
Réchaud-bus: a special guest
Throughout the weekend, the Réchaud-bus, a bus converted into a mobile canteen with a mission to serve meals to underprivileged children in Montréal, was on site to offer everyone snacks of hot dogs, grilled-cheese sandwiches, juice and coffee in exchange for donations. The Réchaud-bus raised more than $1,500 in two days. Great news!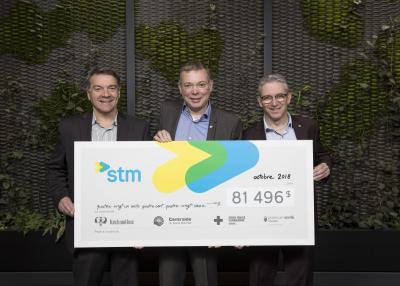 Texte important
From left to right: Michel Lafrance, Executive Director - Customer Experience and Commercial Activities, Philippe Schnobb, Chairman of the STM Board of Directors and Luc Tremblay, Chief Executive Officer of the STM
-30-
Isabelle Tremblay
Affaires publiques
Société de transport de Montréal
medias@stm.info