Authorization for a loan by-law for a new STM bus garage in the Bellechasse area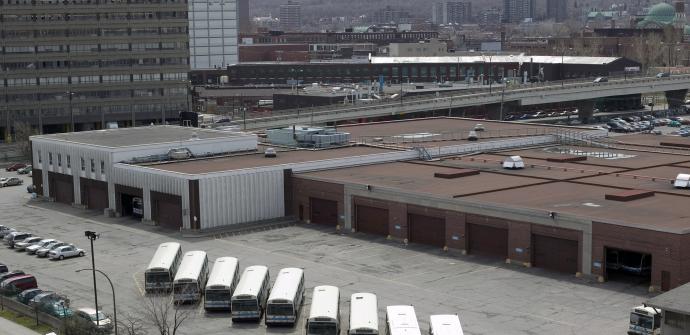 Ville de Montréal and STM today announced a loan by-law had been authorized for the new Bellechasse bus garage.
Montréal, August 15, 2017 –  Ville de Montréal and Société de transport de Montréal (STM) today announced a loan by-law had been authorized for the new Bellechasse bus garage (CT), a $254 M project that should be ready for service in early 2022. It also stands as a tangible example of STM's commitment to keeping its assets in good operating condition.
« One of the project's major milestones will be reached tomorrow when Montréal's executive committee authorizes a loan by-law to get the project underway. That major investment is a testament to our Administration's commitment to improving public transit services and to lay the ground work needed for its future development », explained Aref Salem, executive committee member responsible for transportation.
The building project will serve to replace the existing Saint-Denis bus garage, built in 1957 and at the end of its useful life, in turn helping STM to better meet both current and future operational requirements, with a view to improving the service it provides to its transit customers.  
« With the new Bellechasse bus garage, STM gains greater vehicle capacity and could potentially handle electric buses, in addition to carrying out its maintenance operations more efficiently. This project will help us ensure better service for our customers », added Philippe Schnobb, chair of the STM board.
The new garage will house up to 207 vehicles, or 105 standard and 102 articulated buses.
« This new generation bus garage, adapted to all of the latest technologies, illustrates the Administration's vision, focused on showcasing Montréal as a metropolis on the leading edge of sustainability and innovation, by banking on electrification », stated Ms. Elsie Lefebvre, associate councillor - transportation, responsible for Montréal's strategy for electrification and vice-chair of the STM board.
An innovative project
The new Bellechasse bus garage will stand on its namesake street, between Saint-Dominique and De Gaspé. The concept put forward by STM makes it an innovative project, unique in Canada, that blends into its environment and complies with the principles of sustainability, by aiming for LEED Gold v4 certification. As such, it would align with Montréal's objectives with regards to urban planning for the Bellechasse area. The building will include commercial retail space at street level to boost business activity in the entire area.
« The Bellechasse area is currently the focus of a revitalization initiative to turn it into an exemplary green neighbourhood in the heart of Montréal, where public and active transportation come first. This project to build a new bus garage is perfectly consistent with that vision and, with today's announcement, our Administration is demonstrating its full support for STM in that regard, as it is for the benefit of residents and transit users alike », said Marc-André Gadoury, responsible for bicycle issues in the Coderre Administration and mayoral candidate for the Rosemont-La Petite-Patrie borough.
Features of future Bellechasse garage
Overall budget: $254 M
Preliminary construction schedule: May 2018 to December 2021
Capacity for 207 vehicles, or 105 standard and 102 articulated buses
Maintenance activities at ground level, bus parking on 3e floor and employee parking in basement
3 floors of office space facing the street: ± 5700 m2, including ± 3700 m2 to be allocated for asset transfers
Land covers ± 26 100 m2
LEED Gold v4 construction driven by sustainable development and universal access
Indoor bus circulation
Integration of equipment to recharge 5 electric buses
Project qualifies for a subsidy from the Ministry of Transport, Sustainable Mobility and Transportation Electrification.
-30-
Source :
Marc-André Gosselin
Attaché de presse du comité exécutif
Cabinet du maire et du comité exécutif
514 290-1194
Renseignements :
Marie Eve Courchesne
Chargée de communication
Service des communications
514 872-7302
Amélie Régis
Conseillère corporative, Affaires publiques
STM
514 350-0800 # 85508 
amelie.regis@stm.info