THE STM PASSES THE MARK OF 4 MILLION PARATRANSIT TRIPS IN 2017 AND PREPARES FOR THE ARRIVAL OF EXTRA CONNECTE SERVICE IN 2018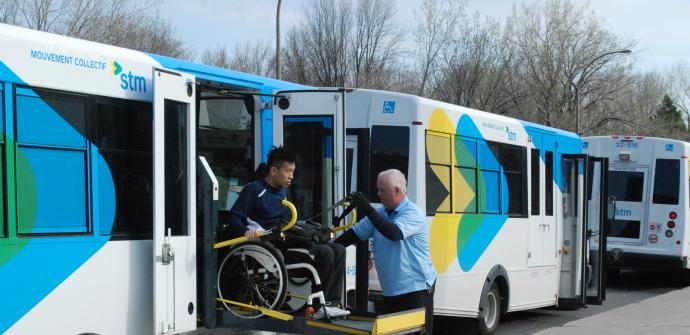 This specialized service contributes to the social, occupational and economic inclusion of people with functional disabilities.
Montréal, January 25 2018 – Société de transport de Montréal (STM) announces that over four million paratransit trips were made in 2017. This specialized service contributes to the social, occupational and economic inclusion of people with functional disabilities.
Over the past ten years, trips have grown at an average annual rate of 6.5%, from 2.3 million trips in 2008 to 4.0 million in 2017, a record level.
Since 1980, the STM offers a door-to-door paratransit service to clients having functional limitations. It is more than 31,000 clients who make their trips regularly on the island of Montreal and in periphery.
New features in service delivery with Extra Connecte
To improve customer experience, the STM this year will continue implementation of the real-time trip management system project, EXTRA Connecte. Ultimately, this tool will allow better optimization of the use of financial and vehicular resources, and inform the clientele about the status of service in real time
Since 2017, customers have obtained precise information related to their trips, particularly with notifications the day before (by text, email or phone) or trip cancellation notifications to inform them adequately during events beyond the STM's control (water main break, fire, etc.).
By the end of 2018, real-time management will be available for all minibuses and a large proportion of taxis, offering better punctuality and more accurate information. In addition, the new control room will ensure more efficient service delivery. Finally, customer notifications a few minutes before transportation arrives will also be available starting in 2019.
The EXTRA Connecte project, which necessitates an investment of $28 million, will generate $20 million in earnings over 10 years and contribute significantly to the improvement of customer experience, while ensuring the sustainability of this growing service.
The STM also optimized the admission request analysis process and instituted a better prioritization system in 2016 to reduce wait times. The response time, which was reduced by half, is now about 20 days. This represents a clear improvement for customers wishing to travel by paratransit.
Reliable, safe and courteous, this specialized service is offered thanks to 128 STM minibus drivers, as well as about 1,500 taxi drivers who work for 13 taxi companies under contract with the STM. To ensure the smoth running of this specialized service, the customers can also count on some one hundred employees who provide the services of call centres, planification and invoicing.