Ligne 24 Sherbrooke
Bus 24 Sherbrooke: a journey from east to west
If there is one east-west street that truly grabs your attention, no doubt that is Sherbrooke street. For the price of bus fare, you get to see the sights along one of Montréal's most prestigious avenues.
From Villa-Maria station on the Orange line, you can board the 24 bus heading east. First, you travel along boulevard Décarie to reach Sherbrooke, a vibrant, commercial and residential street, through the Notre-Dame-de-Grâce neighbourhood, known simply as NDG. 
© Alice Gao/Commission Canadienne du Tourisme The City of Westmount comes next. The bus takes you along a park by the same name, and by a hub of buildings housing public institutions, like Victoria Hall and Westmount's magnificent library. The handsome city hall building comes into sight; after all that green space, you come across popular Greene avenue, with its many cafes and restaurants.
Afterwards, you'll be travelling alongside buildings that play a significant role in everyday Montréal living, such as Emmanu-El Beth Sholom synagogue and Dawson College, before reaching another historically famous part of the city, known as the Golden Square Mile. With a long history as a neighbourhood filled with marvelous examples of architecture, beautifully majestic residential properties can still be seen today. Major institutions, including the Montréal Museum of Fine Arts, with its buildings installed on both side of the street, the McCord History Museum and the renowned Ritz-Carlton hotel, all have their address on Sherbrooke street.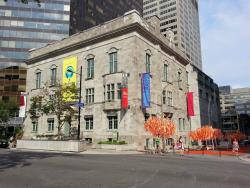 © Musée McCord
Once you reach rue Saint-Denis, you'll be only steps away from Carré Saint-Louis, a picturesque location if ever there was one, where pretty house facades have inspired literary figures and musical performers alike. A little further east, you find yourself next to the one and only, beautiful Parc Lafontaine, until the bus line ends in the residential area of Centre-Sud district.
Treat yourself to a ride on the 24 – Sherbrooke bus. Beautiful sights await you along the way!
Top of page