Bus 80 du Parc
Bus 80 du Parc: from Parc avenue to Parc-Ex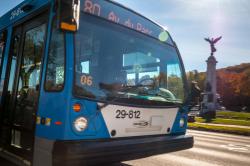 May we suggest that you explore your city by taking a bus ride through a colourful area with the 80 – Du Parc?
From Place des Arts to Parc-Extension, by way of Mount Royal and Mile-End, the 80 – Du Parc bus line definitely feels trendy.
If you board at the south end of the line, you'll be in the heart of the Quartier des spectacles, before quickly reaching Parc avenue after Sherbrooke street. Now, you're in the vicinity of McGill University. You also get to see Percival-Molson Stadium, home of the Montréal Alouettes, flanking the side of Mount Royal, that your bus ride will give you ample time to admire. Du Parc avenue wears its name well, with Mount Royal on one side and Parc Jeanne-Mance on the other.
Mile-End and Mile-Ex
Here, you're entering the Mile-End district, where cross streets like Laurier, Fairmont and Saint-Viateur have so much to offer! Followed by rue Bernard… After that, you find yourself in the middle of an area that many already call « Mile-Ex », an area of the city undergoing full redevelopment, around rue Beaumont and the former Jean-Talon train station.
Later, all around Parc station (Blue line) sits Parc-Extension. Have you ever strolled along nearby Jean-Talon and Ogilvy streets? A guaranteed change of scenery! Mouth-watering exotic flavours and smells to fill your senses, and treasure troves for you to discover inside the many little neighbourhood shops. 
And if you go on to the north end of the 80 – Du Parc bus line, you'll be a short walk away from Marché central, for the bargain-seeker in you. Welcome aboard!
In a hurry? The route taken by the 80 bus is also served by the Express 435 – Du Parc/Côte-des-Neiges bus.
Top of page