Bus 55 Saint-Laurent
Bus 55 boulevard Saint-Laurent: the Main!
Have you ever travelled through the centre of Montréal by bus? You should! Climb aboard the 55 – Boulevard Saint-Laurent bus and open your eyes and ears wide, you're in for a lovely ride!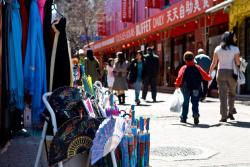 ©Tourisme Montréal, Mario Melillo At the south end, the Chinese district and its lively food stalls. Followed by Sainte-Catherine, Sherbrooke and Duluth streets, each with its distinct style of bars, boutiques and other trendy, original and popular spots. Overhear any Portuguese melodies around rue Rachel?
The Mile End district, with its eclectic urban crowd, boasts numerous storefronts showcasing creators of visual arts, furniture, clothing, multitudes of menus, and more for you to discover…. There is always so much going on!
In the Little Italy district, come rain or shine, local cafes and trattorias all wear the red, white and green, giving this area of the city its very own flavour.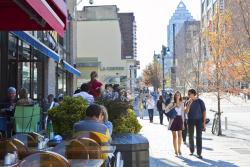 © Matthias Berthet
As you approach Jarry park, a green expanse awaits you, breathing a bit of fresh air into the major boulevard that slows down as it winds through its lively neighbourhoods.
Around rue Chabanel, the environment changes altogether. The large buildings remind us of the area's industrial past, and recent redevelopment signals a revival in popularity for the historic fashion/ garment district. If a lot of people work in the area, many others live here, while many others do their shopping here.
Rue de Louvain is where we end our journey, or start a new one, whichever suits your fancy. In either direction, from all around and from every side, boulevard Saint-Laurent, our Main, offers a glimpse into Montréal's vibrancy!
Top of page