Bus 129 Côte-Sainte-Catherine
Bus 129 Côte-Sainte-Catherine: beyond Outremont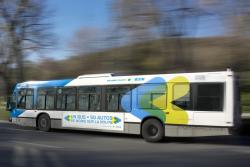 Have you ever travelled all around Mount Royal? Without actually going full circle, the 129  Côte – Sainte-Catherine bus runs along its side, almost like an arm around the mountain's shoulder. Riding aboard the 129 bus means going beyond the mountain, City Hall in Old Montréal to the Côte-des-Neiges district.
As you reach Jeanne-Mance, after leaving Old Montréal and the Chinese district, you start going uphill. And then, on Parc avenue, the mountain comes into full view. After Mont-Royal avenue, Côte Sainte-Catherine road shows us what a real hillside feels like. Here, on the north side of the mountain, you come upon a residential neighbourhood full of history. The houses are often quite large, and also quite remarkable in terms of architecture. The borough's city hall building, at the corner of Davaar street, is a good example and provides a picture-perfect setting to leave the bus and go for a bit of a walk. 
Further west, healthcare establishments share the landscape with academic institutions. Sainte-Justine hospital, Jewish General hospital and Collège Jean-de-Brébeuf all contribute to making this a very busy thoroughfare. And then, yet another facet of Montréal is revealed: now you're in the Côte-des-Neiges district.
Residential buildings stand side by side with neighbourhood shops, whose window signs reflect the diverse nationalities owners and residents hail from. Strolling around this area lets you fully experience another facet of Montréal's diversity.  
On your way, you'll even come across a métro station. Its name? Should be obvious: Côte-Sainte-Catherine station!
Top of page