Bus 125 Ontario
Bus 125 Ontario: right in the heart of Ho-Ma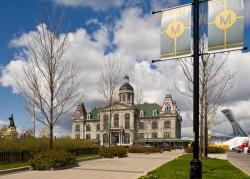 © Tourisme Montréal, Mario Melillo Every neighbourhood has its own little main street. In Hochelaga-Maisonneuve, Ho-Ma, a densely-populated area featuring mature trees lining its streets and a distinctive architectural style, rue Ontario acts as its main artery. You can feel its vibrancy aboard the 125 – Ontario bus.
Ontario street offers a changing face along the way and is filled with history. A busy street that was formerly served by our celebrated « p'tits chars », these little tramway cars from our past, that holds countless storefronts and retail services. From the Latin Quarter, around Saint-Denis street to the Centre-Sud district between Berri and De Lorimier, this main street is filled with shops, restaurants, theatres, beauty salons and tea rooms. Indeed, you can just as easily explore Ontario street on foot as by bus!
After passing by Frontenac station (Green line) and Centre Jean-Claude-Malépart, a modern sports complex, you'll drive under an overpass to reach Hochelaga-Maisonneuve. Majestic churches, like Église de la Présentation, for example, between Dézéry and Saint-Germain streets, were built throughout this neighbourhood. From there to boulevard Pie-IX, Promenade Ontario is lined with retail shops offering the most diverse products. About halfway down that stretch of road, Place Valois, near its namesake street, provides another lively hub of activity all year round.
A glorious past
After Pie-IX boulevard, the past history of the former municipality of Maisonneuve gives it an unexpected quality today. See the Maisonneuve public library building, at the corner of Pie-IX and Ontario, or further still, the Maisonneuve public market and the superb building housing the Morgan public bath house, set on its namesake street, and that can easily be seen from Ontario street.
Eastbound, the 125 bus line ends at Viau station (Green line), with the Biodôme, The Tour de Montréal, the Planétarium, Maurice-Richard sports arena, Saputo Stadium and Olympic installations all nearby. A lively, handsome area to cap off a unique bus ride!
Top of page