Osheaga

Public transit will get you there!
August 4 to 6



 Jean-Drapeau
Three days of music
It's back! The OSHEAGA Music Festival is taking over Parc Jean-Drapeau for a three-day weekend. The easiest and simplest way to get there is, of course, by public transit. Jean-Drapeau métro station is only 250 metres from the site.
Don't miss the last métro!
Think about your return trip home. Below are the last train departure times:
Jean Drapeau station
Friday at 01:02 a.m.
Saturday at 01:32 a.m.
Sunday at 01:02 a.m.
Berri-UQAM station
Friday at 00:57 a.m.
Saturday at 01:27 a.m.
Sunday at 00:57 a.m.
This fare card is made to measure: 3 days for $17
Valid from 10 a.m. Friday to 5 a.m. Monday, the pass only costs $17 and will get you to every Festival concert along the way.Please note this special fare card is only sold on August 3 and 4 at the métro station ticket counter.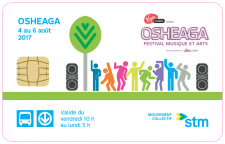 Peel
McGill
Place-des-Arts
Berri-UQAM
Bonaventure
Longueuil—Université-de-Sherbrooke
Angrignon
Lionel-Groulx
Atwater
Guy-Concordia
Peel
McGill
Place-des-Arts
Saint-Laurent
Berri-UQAM
Beaudry
Viau
Radisson
Côte-Vertu
Vendôme
Lucien-L'Allier
Bonaventure
Square-Victoria
Place-D'Armes
Champ-de-Mars
Sherbrooke
Mont-Royal
Laurier
Jean-Talon
Montmorency
Jean-Drapeau
Longueuil—Université-de-Sherbrooke
The special fare card doesn't suit your needs?
Check the fare chart to find other suitable transit fares for you. Buy it ahead of time and remember to include your return trip. This way, you'll avoid line-ups at the ticket counter.
Travelling by bicycle?
Because of the expected heavy ridership in the métro, bicycles are prohibited in the system during certain events, including the Osheaga Festival. Read more on bicycle restrictions before heading out!
Top of page