Let reading carry you away

New books to read on the go!
Lire vous transporte is an authentic digital library through which you can download the first chapter of over 60 books.
Nine categories are available: Leisure, Wellness, History, Suspense, Current issues, Guest of honour, Booksellers, Librarians and Public Figures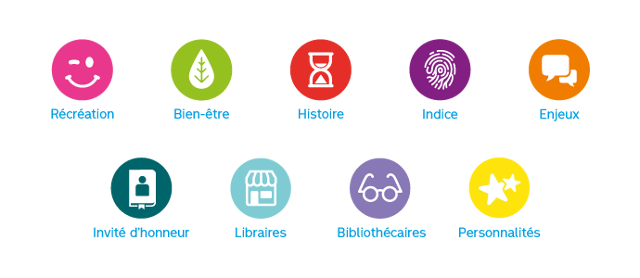 The opportunity to read while you're on the move is one of public transit's many advantages. On the bus or in the métro, escape from everyday life with our selection of books for you.
It's easy, simply:
Choose one of the 45 titles available at lirevoustransporte.com
Select your book
Download the complete first chapter for free
You want to find out what happens after the first chapter? Thanks to our partners, you can borrow or purchase that book, geolocate a nearby library or bookstore and read the rest of the story!
The STM book club
We asked you on Facebook about the books that made an impact on you. Many of you answered our call and shared your favourites with us.
Are you looking for a new book to read while riding transit and need ideas? Here are over 300 suggestions.
Albom, Mitch
Les mardis avec Morrie
Alexakis, Vassilis
La clarinette
Alexie, Sherman
Indian Blues
Armand, Marie-Paul
2 sœurs ennemies
Asimov, Isaac
Les Fondations
Atwood, Margaret
The Handmaid's Tale
Auel, Jean M.
Les enfants de la Terre
Austen, Jane
Orgueil et Préjugé
B. Jacobson, Kate
Mon inconnu, mon mariage et moi, vol. 1
Backman, Fredrik
A man called Ove
Barbery, Muriel
L'élégance du hérisson
Barrico, Alessandro
Le château de la colère
Bellemare, Pierre
Les murs de l'enfer
Beauchesne, Sarah-Maude
Cœur de slush
Beaudoin, Myriam
Hadassa
Beigbeder, Frédéric
99 francs
Beigbeder, Frédéric
Windows on the world
Benacquista, Tonino
Quelqu'un d'autre
Bergier, Jacques et Pauwels, Louis
Le matin des magiciens
Berlitz, Charles
Le Triangle des Bermudes
Bertrand, Janette
Lit Double
Bottero, Pierre
Le chant du Troll
Boulet, Tania
Danser dans la poussière
Britt, Fanny
Les maisons
Bontë, Charlotte (+1)
Jane Eyre
Brontë, Emily
Les Hauts de Hurlevent
Brown, Dan
Da Vinci Code
Byrne, Rhonda
The Secret
Cabot, Meg
Coup de foudre
Camus, Albert (+3)
L'étranger
Cass, Kiera
La sélection
Chattam, Maxime
Les arcanes du chaos
Chbosky, Stephen
Le monde de Charlie
Christie, Agatha
Dix petits nègres
Coehlo, Paulo (+2)
L'Alchimiste
Coelho, Paulo
Veronika décide de mourir
Cohen, Albert
Belle du seigneur
Colfer, Eoin
Artemis Fowl
Collard, Cyril
Les nuits fauves
Collins, Suzanne
Hunger Games
Conroy, Pat
Le Prince des marées
Cook, Robin
Host
Cousture, Arlette
Les filles de Caleb
Cusk, Rachel
Outline
Danis, Daniel
Cendres de Cailloux
Dashner, James
L'épreuve, tome 1 : Le labyrinthe
Dashner, James
L'épreuve, tome 2 : La Terre brulée
Dean Foster, Alan
Spellsinger
Defoe, Daniel
Robinson Crusoe
Defonseca, Misha
Survivre avec les loups
Demers, Dominique
Là où la mer commence
Demers, Dominique
Marie-Tempête
Demers, Dominique
Un hiver de tourmente
Desjardins, India (+2)
Journal d'Aurélie Laflamme
Dicker, Joël (+1)
L'affaire Harry Québert
Dickner, Nicolas (+1)
6 degrés de Liberté
Dirie, Waris
Fleur du désert
Dompierre, Dominique
Un petit pas pour l'homme
Dostoïevski, Fiodor (+1)
Crime et châtiment
Dostoïevski, Fiodor
L'idiot
Druon, Maurice (+2)
Les Rois maudits
Dubois, Émilie
Ce qui se passe au Mexique reste au Mexique
Ducharme, Réjean
L'avalée des avalés
Ducharme, Réjean
L'hiver de force
Du Jardin, Alexandre
L'Ile des Gauchers
Dumas, Alexandre (+1)
Le Comte de Monte-Cristo
Dumas, Alexandre
Les Trois mousquetaires
Dupont, Éric
La fiancée américaine
Dupuis, Marie-Bernadette
L'enfant des neiges
Easton Ellis, Bret
American Psycho
Ende, Michael
L'Histoire sans fin
Evens, Brecht
Panthère
Falcones, Idelphonso
La Cathédrale de la mer
Farah, Alain
Pourquoi Bologne
Flaubert, Gustave
Madame de Bovary
Flynn, Gillian
Dark Places
Folco, Michel
Un loup est un loup
Follet, Ken
Apocalypse sur commande
Follet, Ken
Les piliers de la Terre
Frances, Allen
Sommes-nous tous des malades mentaux? Le normal et le pathologique
Frank, Anne (+3)
Le journal d'Anne Frank
Fyfe-Martel, Nicole
Hélène de Champlain
Gaarder, Jostein (+2)
Le monde de Sophie
Gabaldon, Diana
Le Chardon et le Tartan
Galloway, Steven
Le violoncelliste de Sarajevo
Garcia Marquez, Gabriel (+2)
Cent ans de solitude
Gary, Romain (+1)
Gros-câlins
Gary, Romain
L'angoisse du roi Salomon
Gary, Romain (+1)
La vie devant soi
Gavalda, Anna
Je voudrais que quelqu'un m'attende quelque part
Gibran, Khalil
Le prophète
Gilbert, Elizabeth (+1)
Mange, Prie, Aime
Gill, Pauline
Série la Cordonnière
Golden, Arthur
Geisha
Gonod, Michel
Le secret du docteur gubler
Gounelle, Laurent (+1)
L'homme qui voulait être heureux
Grad, Marcia
La princesse qui croyait au compte de fée
Gray, Martin
Au nom de tous les miens
Grignon, Claude Henri
Un homme et son péché
Green, John
Nos étoiles contraires
Guay, Guylaine (+1)
Deux garçons à la mère
Guenassia, Jean-Michel
Le club des incorrigibles optimistes
Guèvremont, Geneviève
Le Survenant
Hadfield, Chris
Guide d'un astronaute pour la vie sur terre
Haley, Alex et Malcom X
L'autobiographie de Malcom X
Harris, Charlaine (+1)
La communauté du Sud (True Blood)
Hemmingway, Ernest
Le vieil homme et la mer
Hesse, Hermann
Le jeu des perles de verre
Hobb, Robin
L'Assassin Royal
Hofstadter, Douglas
Gödel, Escher, Bach : Les brins d'une guirlande éternelle
Hughes, Clara
Coeur ouvert, esprit ouvert
Hugo, Victor
Le dernier jour d'un condamné
Hugo, Victor (+3)
Les Misérables
Hugo, Victor
Notre-Dame de Paris
Huxley, Aldous (+1)
Le meilleur des mondes
Indridason, Arnaldur
Opération Napoleon
Ionesco, Eugène (+1)
La Cantatrice Chauve
Ionesco, Eugène
La Leçon
Isabelle, Patrick
Camille
Jardin, Alexandre
Bille en tête
Jonasson, Jonas
Le Vieux qui ne voulait pas fêter son anniversaire
Kerr, Phillip
Vert-de-gris
Keyes, Daniel (+1)
Des fleurs pour Algernon
Khera, Shiv
You can win
King, Stephen
Bazaar
King, Stephen (+1)
Ça (It)
King, Stephen
Le Fléau
King, Stephen
Mr Mercedes
King, Stephen
Misery
Kovaly, Heda Margolius
Le premier printemps de Prague
Krakauer, Jon (+1)
Voyage au bout de la solitude (Into the Wild)
Kristoff, Agota
La Trilogie des jumeaux
Kristoff, Agota (+4)
Le Grand Cahier
Kurt Vonnegut
Slaughterhouse Five
Laberge, Marie (+3)
Annabelle
Laberge, Marie
Juillet
Laberge, Marie (+1)
Le Goût du bonheur (Gabrielle, Adélaïde et Florent)
Lackberg, Camilla
La Sirène
Laferrière, Dany
L'art presque perdu de ne rien faire
Laferrière, Dany
Tout ce qu'on ne te dira pas, Mongo
Landry, Elizabeth
L'hôtesse de l'air
Langlois, Michel (+1)
Il était une fois Montréal
Leclerc, Félix
L'auberge des morts subites
Lenhard, Elisabeth
Witch
Lessard, Patrice
Excellence poulet
Levison, Iain
Ils savent tout de vous
Lévy, Marc
La première nuit
Lévy, Marc
Toutes ces choses qu'on ne s'est pas dites
Lévy, Marc (+1)
Une autre idée du bonheur
Lewis, Caroll (+2)
Alice aux pays des merveilles
London, Jack
Croc Blanc
Maalouf, Amin
Léon l'africain
Marmen, Sonia
Les Filles du Pasteur Cullen
Martel, Suzanne
Jeanne, fille du Roy
Martel, Yann (+1)
L'histoire de Pi
Martin, George R.R. (+1)
Le trône de fer (Game of thrones)
Masterton, Graham
Sang Impur
McCarthy, Cormac
La route
Melville, Herman
Moby Dick
Meyer, Stephenie
Twilight
Millman, Dan
Notre chemin de vie
Modiano, Patrick
Rue des boutiques
Mongrain, Serge
Ghetto
Montgomery, Lucy Maud (+4)
Anne la maison aux pignons vert
Muchamore, Robert
Série Cherub
Murakami, Haruki
Chroniques de l'oiseau à ressort
Murakami, Haruki (+1)
Kafka sur le rivage
Musso, Guillaume
La fille de papier
Musso, Guillaume
Parce que je t'aime
Nicholls, David
One Day
Nothomb, Amélie (+1)
Cosmétique de l'ennemi 
Nothomb, Amélie
Hygiène de l'assassin
Nothomb, Amélie
La métaphysique des tubes
Orwell, George (+1)
1984 de George Orwell
Orwell, Georges
La ferme des animaux
Pancol, Katherine
La valse Lente des tortues
Pancol, Katherine
Les écureuils de Central Park sont tristes le lundi
Pancol, Katherine (+1)
Les yeux jaunes des crocodiles
Paquette, Mylène
Dépasser l'horizon
Paver, Michelle
Jamaïca
Pelletier, Denis
L'arc-en-soi de Denis Pelletier
Pennac, Daniel
Les Malaussène
Penny, Louise
A Fatal Grace
Pharand, Jacques
À la Belle Époque des Tramways
Poitras, Anique (+2)
Le roman de Sara
Pratchett, Terry
Guards! Guards! ("Au guet!" en français)
Proud, Peter
Reincarnation
Puzo, Mario
Le Parrain
Quintane, Nathalie
Tomates
Rabagliati, Michel
Paul à Québec
Rilke, Rainer Maria
Lettres à un jeune poête
Robillard, Anne
A.N.G.E
Robillard, Anne
Les ailes d'Alexanne                   
Rousey, Ronda
Rousey
Rostand, Edmond
Cyrano de Bergerac
Rowling, J.K. (+9)
Harry Potter
Roy, Gabrielle (+3)
Bonheur d'occasion
Roy, Nathalie (+1)
La vie épicée de Charlotte Lavigne
Roy, Nathalie
La vie sucrée de Juliette Gagnon
Ruiz Zafón, Carlos (+1)
L'Ombre du vent
de Saint-Exupéry, Antoine (+9)
Le Petit Prince
S. Thompson, Hunter
Las Vegas Parano
Sajer, Guy
Le soldat oublié
Sanderson, Brandon
Firefight
Sanderson, Brandon
Steelheart
Sansal, Boualem
2084 La fin du monde
Schlink, Bernhard
Le liseur
Schmitt, Éric-Emmanuel (+1)
La part de l'autre
Schreiber, Flora Rheta
Sybil
Sénécal, Patrick
5150 rue des Ormes
Sénécal, Patrick (+10)
Aliss
Sénécal, Patrick (+2)
Faims
Sénécal, Patrick
Hell.com
Sénécal, Patrick
Malphas
Sénécal, Patrick
La reine rouge
Sénécal, Patrick
Le Vide
Sénécal, Patrick
Sur le seuil
Sicotte, Anne-Marie (+3)
Les Accoucheuses
Smith, Dan
Le Village
Smith, Patti
Just kids
Smith, Patti
M Train
Smith, L.J.
Journal d'un vampire
Sonaldo, Alexandra (+1)
Le livre de la lumière
Soublière, Alexandre
Charlotte before Christ
Spulveda, Luis
Le vieux qui lisait des romans d'amour
Steel, Danielle
Le Cadeau
Steinbeck, John
Les raisins de la colère
Süskind, Patrick (+4)
Le Parfum
Szalowski, Pierre
Le froid modifie la trajectoire des poissons
T., Elisa
Des fleurs sur la neige
Tart, Donna
Le maître des illusions
Taschereau, Ghislain
L'inspecteur specteur
Taschereau, Ghislain
La planète nette
Taylor Bradford, Barbara
L'espace d'une vie
Thériault, Yves
Agaguk
Toews, Miriam
A Complicated Kindness
Tolkien, John Ronald Reuel (+1)
Le Hobbit
Tolkien, J. R. R. (+1)
Le Seigneur des anneaux
Tremblay D'Essiambre, Louise
Les héritiers du fleuve
Tremblay d'Essiambre, Louise
Mémoires d'un quartier
Tremblay, Michel
La grosse femme d'à côté est enceinte
Tremblay, Michel
Les Belles-soeurs
Vallières, Pierre
Nègres blancs d'Amérique
Vian, Boris
L'écume des jours
Victor, Paul-Émile
Chiens de traîneaux
Verne, Jules
Le Tour du monde en quatre-vingts jours
Waters, John
Carsick
Weber, Bernard
Le sixième sommeil
Weber, Bernard
Les fourmis
Zweig, Stefan
Le Joueur d'échecs
Children's books
Andersen, Hans Christian
La princesse au petit pois
Andersen, Hans Christian
La petite sirène
Beauchemin, Yves
Une histoire à faire japper
Baum, Lyman Frank
Le Magicien d'Oz
Beaumier, Camille
Ouate de phoque
Berenstain, Jan et Stan
La Famille Berenstain
Berthiaume, Pierre et Lemieux, Geneviève
La soupe aux sous
Blyton, Enid
Le Club des Cinq
Blyton, Enid
Oui-oui
Bridwell, Norman
Clifford The Big Red Dog
Calonita, Jen
Les Secrets de ma vie à Hollywood
Cantin, Reynald
Ève Paradis
Dami, Elisabetta
Geronimo Stilton
Defoe, Daniel
Robinson Crusoe
De La Fontaine, Jean
Les Fables de la Fontaine
Delahaye, Gilbert et Marlier, Marcel (+8)
Martine
Delaunois, Angèle
Le Grand Voyage de Monsieur Caca
De Saint-Exupéry, Antoine (+10)
Le Petit Prince
De Ségur, Comtesse
Jean qui pleure, Jean qui rit
De Ségur, Comtesse
Le général Dourakine
De Ségur, Comtesse (+7)
Les Malheurs de Sophie
De Ségur, Comtesse
Les petites filles modèles
Disney, Walt
La soupe au bouton
Disney, Walt
Le livre de la jungle
Disney, Walt
Le Pingouin qui n'aimait pas le froid
Goscinny, René
Le petit Nicolas
Goscinny, René et Uderzo, Albert (+3)
Astérix et Obélix
Grimm, Jacob et Wilhelm
Blanche-Neige
Grimm, Jacob et Wilhelm et Basile, Giambattista (+1)
Cendrillon
Grimm, Jacob et Wilhelm et Ray, Jane
Hansel et Gretel
Hergé (+3)
Tintin
Hodgson Burnett, Frances
A Little Princess
Holzwarth, Werner
De la petite taupe qui voulait savoir qui lui avait fait sur la tête
Huriet, Genevière et Jouannigot, Loïc¸
Mistouflet Passiflore et le baobab
Jacobs, Joseph
Jack et le haricot magique
Leclerc, Félix
Le petit ours gris de la Mauricie
Lewis, Caroll
Alice aux pays des merveilles
Milne, Alan Alexander (+2)
Winnie the Pooh
Moncure, Jane Belk
Que dit-on quand un singe agit de cette façon
Munsch, Robert
Je t'aimerai toujours
Munsch, Robert
La princesse dans un sac
Perreault, Charles
La belle au bois dormant
Perreault, Charles
Le petit chaperon rouge
Philippe, René (+1)
Sylvie, hôtesse de l'air
Porphyre-Pinchon, Émile-Joseph
Bécassine
Potter, Beatrix
The Tale of Peter Rabbit
Rowling, J.K. (+6)
Harry Potter
Sendak, Maurice
Max et les Maximonstres
Seuss Geisel, Theodor
One Fish Two Fish Red Fish Blue Fish
Seuss Geisel, Theodor
The Lorax
Southey, Robert (+1)
Boucle d'or et les trois ours
Spyri, Johanna
Heidi
Stine, R.L. (+1)
Chair de poule
Stinson, Kathy
Le Rouge, C'est Bien Mieux!
Theroux, Alexander et Froud, Brian
Master Snickup's Cloak
Tibo, Gilles
Noémie
Turgeon, Elizabeth et Turgeon Better, Ève
La Réglisse rouge
Twain, Mark  (+1)
Les Aventures de Tom Sawyer
Vernes, Henri
Bob Morane
Vernes, Jules (+1)
Voyage au centre de la Terre
Williams, Margery
The Velveteen Rabbit
White, E.B. (+2)
La toile de Charlotte (Charlotte's Web)
                                  
Top of page