Boutique STM is full of products
There are all kinds, for all tastes… treat yourselves!

---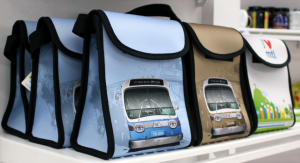 Beautiful gifts, to discover online.
Cushions, cups, earrings, caps, phone cases or lunch bags in the colors of Montreal transit, if you are looking for a hostess or housewarming gift, you are in the right place.
Be the first online and do not miss anything new!
Small visit of the workshops
From one end to the other of the floor, the Boutique STM is busy making you happy...

Locally-made products! Not only are they the only authentic STM  products on the market, items for sale by Boutique STM are for the most part made in Canada, including some made right here in Montréal.
Top of page