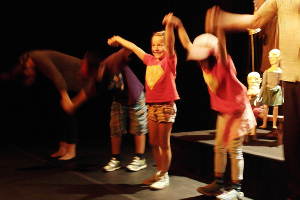 6430 Saint-Denis
Phone : 514 523-1303

Beaubien 

18, 30, 31
L'illusion, Théâtre de marionnettes
$2 off per person
Well established in Montréal since 1979, L'Illusion, Théâtre de marionnettes pursues the creation, the production and the dissemination of performances that showcase the great breadth of puppet theatre.
Primarily intended for young people, the company's work aims to surprise its audience with innovative offerings.
Get a $2 per person discount upon presentation of a valid STM fare.
Offer valid at all times.
RESERVATION REQUIRED at 514 523-1303
2017-2018 SEASON
Come see original and inspiring shows in the warm and cozy atmosphere of the Studio-théâtre de L'Illusion!
SUMMER PERFORMANCE WORKSHOP
On Sundays at 2 PM, from July 23 to August 13, 2017
Ages 5 to 12
Learn the tricks of the trade from puppeteers in the company of energetic artists during this interactive workshop featuring experimentation and play!
Tickets cannot be exchanged of refunded. Be sure to check and respect the recommended ages for the shows you select.
The STM is in no way responsible for offers made by its partners, as it is only acting as a middle-man between its transit users and commercial partners for the purpose of promoting their products and services. 
 
Top of page