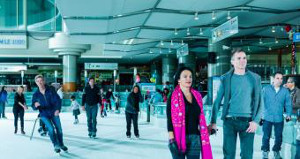 1000, rue De La Gauchetière Ouest
Phone : 514-395-0555

Bonaventure

36 - 61 - 74
Atrium Le 1000 de la Gauchetière
$2 discount per person
Upon presentation of a valid transit pass.
Make sure you check ahead with STM partners for the date and time the discount is valid.
The STM is in no way responsible for offers made by its partners, as it is only acting as a middle-man between its transit users and commercial partners for the purpose of promoting their products and services. 

Top of page