Savoie rectifier stations

From April 2017 to August 2019, construction will be underway on a building that will house two new rectifier stations. They will be located below Savoie Avenue, near Ontario Street, where a mechanical ventilation station is already located.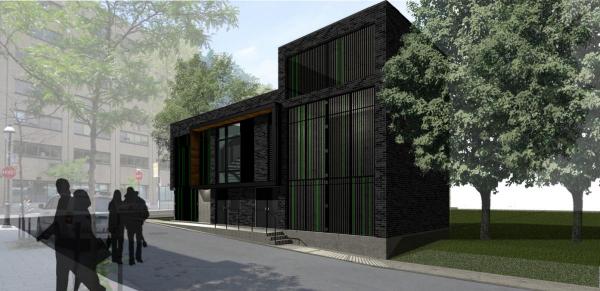 Texte important
Neighbouring businesses will remain open during construction.
A rectifier station holds equipment that is necessary to supply electrical power to the tracks in the métro. There are 63 such rectifier stations spread out in the network, with most of them located between métro stations.
Putting new AZUR trains in passenger service will help to gradually raise the offer of service. That growth will lead to an increase in demand for power to supply the métro tracks. To ensure the system can withstand the higher demand, it is essential that we add rectifier stations in certain areas of the métro system.
The noisiest work will take place during two periods. From April 2017 to March 2018, we will be excavating under Savoie Avenue, and from April to July 2018, we will be excavating under Ontario Street, up to the intersection with Berri.
Traffic will be disrupted during two periods. First, for all the duration of the works, that is from April 2017 to August 2019, and then when Ontario Street will be closed, that is from April to July 2018. The plans that follow indicate the impacts of disruptions.
A traffic study was performed by an independent firm specialized in that field, in order to lessen the impact on car circulation and for fans of active means of transportation. These impacts along with mitigating measures were all coordinated with the project's different stakeholders, particularly with Ville-Marie borough, the City of Montréal, BAnQ  and Vélo-Québec.
Work zone - April 2016 to August 2019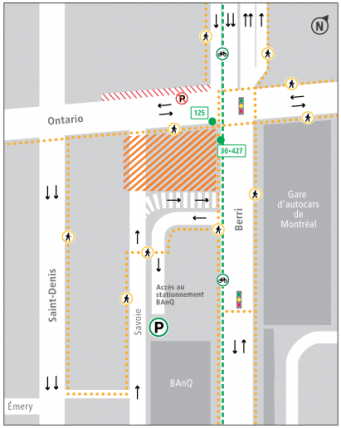 Work zone - April to July 2018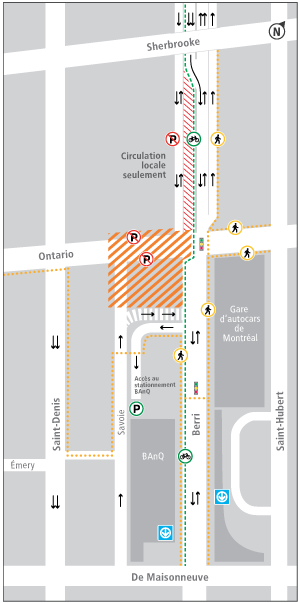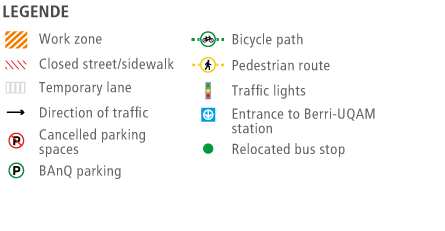 Public transportation, the solution to traffic congestion!
The sector is served by Berri-UQAM and Sherbrooke métro stations and several bus lines.
No. Ventilators for rectifier station equipment are equipped with high-performance noise suppressors. Once in operation, the station noise will comply with city regulations and will not surpass that of the present mechanical ventilation station. In fact, the noise level is so low, it can be covered by normal human conversation or the area's ambient noise.
---
This work is made possible through funding from the ministère des Transports du Québec.
Top of page