Saint-Timothée mechanical ventilation station

Latest Update
October 2017
The most important work has been completed since last September 15 and the contractor is finishing up with some work and correcting others, both inside and outside of the mechanical ventilation station. This should all be handled over the next few weeks.
What remains to be finished inside the station should not impact on neighbouring residents. However, with the exterior work (installation of handrails and fences, etc.), there could be some minor impact on traffic, such as occasionally blocking a lane to allow trucks to pass.
FAQ
As part of our program for refurbishing métro infrastructure, we are building a new mechanical ventilation station along the Green line, between Berri-UQAM and Beaudry stations. The new building will be rebuilt at the same location at 1470 Saint-Timothée St. between Berri-UQAM and Beaudry métro stations.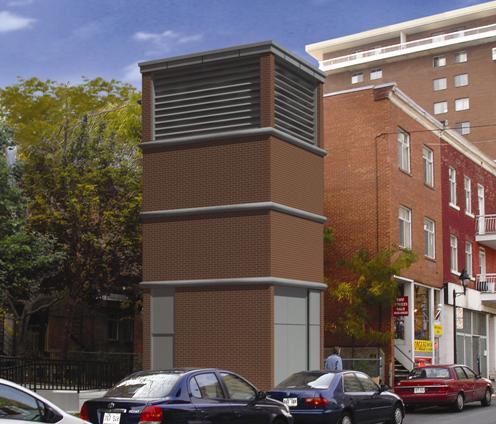 The ventilation stations in the métro's initial network were built during the 1960s and they have largely exceeded their useful service life set at 25 years. So we must upgrade them to comply with modern standards of safety and noise.
Step 1
Worksite preparation
Installation of temporary fences around worksite
Installation of construction equipment
Approximate timeframe: One month
Step 2
Excavation of ventilation shaft
Surface excavation
As the ventilation station is located where the bedrock is especially deep, most of the soil excavation will take place above the bedrock.
Excavation below the bedrock
Micro-blasting will be required to excavate a thin layer of bedrock from the open trench (or pit) for the ventilation station.
Approximate timeframe: seven months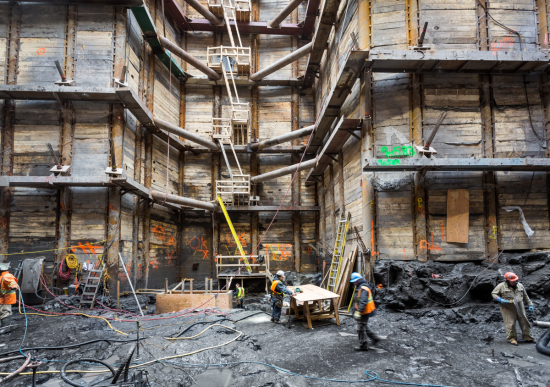 Step 3
Concrete work for shaft and trench construction
Concrete work on floors, walls and ceiling
Approximate timeframe: six months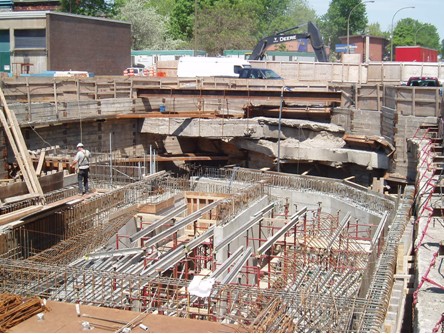 Step 4
Installation of mechanical and electrical equipment
Deliveries of equipment at work site
Installation of equipment
Performance tests on mechanical equipment
Main equipment used:
Crane and delivery trucks
Approximate timeframe: five months
Step 5
Architectural finishes and landscaping
Construction of exterior building
All traditional trades usually needed to build the exterior structure are involved, including framing carpenters, bricklayers, roofers, glaziers, in addition to the landscapers
Main equipment used:
Trucks, forklifts, scaffolding and boom
Approximate timeframe: three months
Initially, construction work was to take from 24 to 26 months, from the time work began in Fall 2013. However, as some phases of the project took more time than planned, we now expect work to be completed by spring 2017.
 The metro ventilation system serves three purposes:
Comfort ventilation – Regulates the indoor temperature for the comfort of customers. Trains produce nearly 80% of all heat in the underground network merely by braking and accelerating.
Night-time ventilation – Night-time ventilation ensures a supply of fresh air for workers at night carrying out routine maintenance tasks, such as welding.
Emergency ventilation – Used for smoke control. Provides a safe evacuation route for transit users and a safe access route for firefighters, should an incident occur.
Above-ground, the building will be about two storeys high. The front of the building will feature the main entrance. The air will flow through the shutters located above the entrance (see illustration above).
The métro network currently has 88 mechanical ventilation stations, as one is required between two stations.
Yes, this project consists of replacing the existing mechanical ventilation station, built around 1966 and located at 1470 Saint-Timothée Street. The new station will be rebuilt at the same location.
No, because the existing station must first be dismantled to make way for construction. Compensation measures will be deployed in the métro to make up for shutting down the ventilation unit during construction.
The surface area of the new building will be twice the size of the current building.
Expanding the building was necessary to comply with new safety standard that require a considerably higher air flow rate than was required by code in the 1960s.
The ventilation shaft (the vertical portion) and the trench (the horizontal section) located below the surface will also be bigger to allow a larger volume of air to circulate.
In cooperation with Ville-Marie borough and the city of Montréal, a traffic plan has been established for motorists and for active transport users in order to minimize the impact on traffic flow in the area.
In light of the work's progress, we were able to considerably downsize the work site.
As a result, since last November 10, our work site has disappeared from boulevard De Maisonneuve. In accordance with the plan drawn up with the City of Montréal before work began, the city will next be setting up a bicycle path along that stretch of boulevard.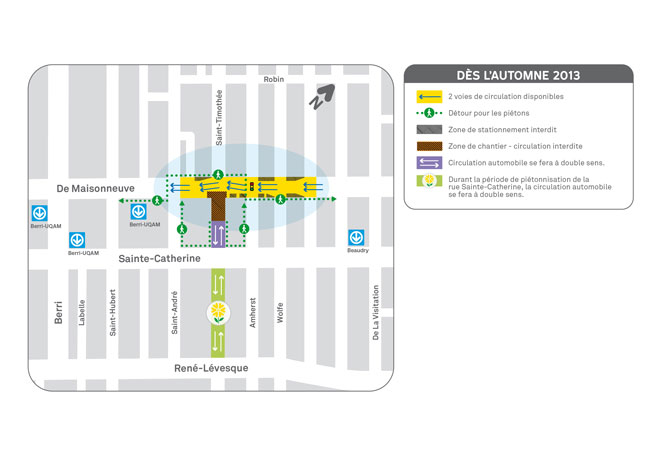 Any construction work likely to produce noise will be restricted between 7 a.m. and 7 p.m.
In the past few months, we have been working weekends regularly so that the project's overall timeframe does not overly extend beyond the original deadline.
During construction, an independent outside firm will supervise excavation work. This firm will ensure that strict standards established by the City of Montréal and the STM regarding vibrations caused during excavation are respected. Seismographs will be installed in strategic areas to measure vibrations.
In cooperation with Ville-Marie borough and the city of Montréal, a traffic plan has been established for motorists and for active transport users in order to minimize the impact on traffic flow in the area.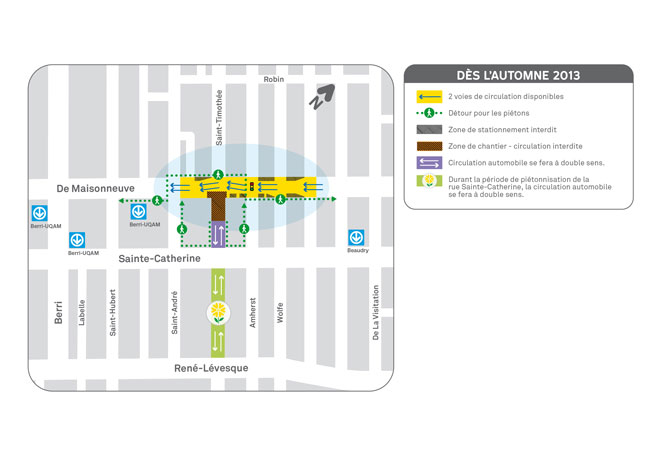 No. A mechanical ventilation station essentially exchanges air from the outside with ambient air in the metro, bringing in a supply of fresh air for commuters.
No, a ventilation station neither uses nor produces any contaminants. Rainwater or snow falling into the ventilation shaft will be collected by the métro pumping system and released into the municipal sewage system.
No. These ventilation units are equipped with powerful noise suppressors. Once they are operational, noise levels will comply with municipal regulations and will not exceed 50 decibels outside the building, even if both units are operating together at full capacity (this would be exceptional). That noise level is so low that it cannot be heard over a normal conversation or normal ambient noise in the area..
No. Thanks to high-performance noise suppressors, noise levels are usually lower after the new components are installed. Even if the new ventilation units are bigger than those currently in use, once they are fully operational, any noise produced will meet with city standards.
No. The infrastructure and equipment needed to operate a mechanical ventilation station are completely different from those required for a metro station.
Top of page