Mont-Royal bus garage
Refurbish work at the Mont-Royal bus garage
From June to September, work will be performed in the garages, parking lots and administrative building.

 
What will the work involve?
Work inside the garages and administrative building
Work on various outside equipment and parking lots
Replacement of three garage doors
Refurbishment of concrete slabs
Paving work
Work on the exterior building envelope of the administrative building
How will the work impact traffic in the area?
Given that the work site will take up a portion of the parking lot adjacent to the administrative building, modifications will have to be made to bus traffic around the bus garage.
The road barrier on Franchère Street will be removed to allow buses to travel south to Mont-Royal Avenue. The barrier will be reinstalled once the work is finished, and traffic will return to normal.
Work trucks will operate on the neighbouring streets around the bus garage.
A few parking spaces on Franchère Street and two spaces on the east side of Fullum Street will be removed to leave enough room for bus drivers to make turns.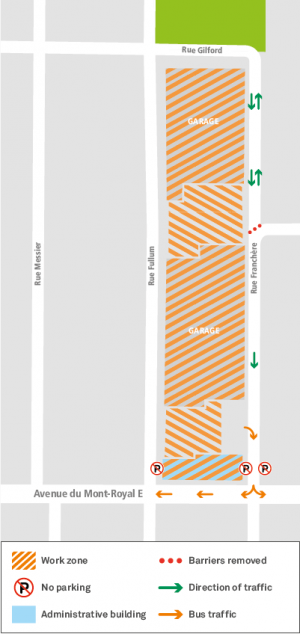 Texte important
Modifications may also be made to vehicle traffic to overcome operational or traffic issues during the work.
The impacts of the work on traffic and the implemented measures were all coordinated with the Plateau-Mont-Royal borough.
Will the work generate noise?
Work that is likely to generate noise will be carried out in compliance with municipal regulations.
To avoid disrupting bus service delivery and to maintain bus garage operations, some work will have to be carried out at night. This work, however, will only be performed inside our facilities.
Think of your safety:
At all times, no one shall gain access to or walk on the bus garage premises. There are a lot of vehicles driving around, especially buses. It's a matter of safety!
Anyone who contravenes this directive is liable to a fine under bylaw R-036.
We are aware of the inconvenience this work might cause. Rest assured that we are taking all necessary steps to minimize the impact on the neighbourhood.
Top of page