Hermine mechanical ventilation station

Construction of the new Hermine mechanical ventilation station is over!
Keep in mind that the purpose of this project was to replace the ventilation station built in 1966 in this area, between Square-Victoria and Place-d'Armes métro stations.
Work began in fall 2012 and is now finished, a little over two years later.
Better performance
The new equipment will enhance the performance of the métro's ventilation system, made up of 88 mechanical stations (located along the tunnel between passenger stations), and multiple natural ventilation stations, directly connected to passenger stations. The ventilation system serves three functions: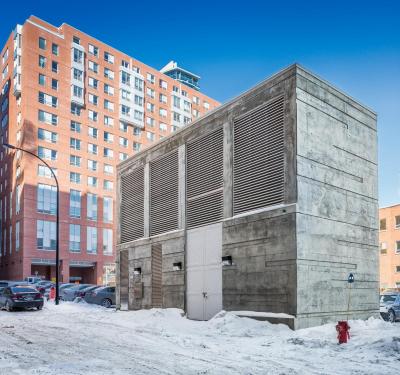 Comfort ventilation -  Regulates the temperature for the comfort of customers. By breaking and accelerating, trains produce nearly 80% of all heat in the underground network.
Night ventilation - Night ventilation ensures a supply of fresh air for night time workers carrying out routine maintenance tasks.
Emergency ventilation - Used for smoke control. Provides a safe evacuation route for people and a safe access route for firefighters should an incident occur.
A multidisciplinary team
Carrying out such large scale projects below street level and in such densely-populated areas is not a walk in the park! A full year before the initial ground breaking takes place, a team of civil engineers specialized in the building's structural, mechanical and electrical components, as well as automation, telecommunications and acoustics, was busily drawing up plans. Add to that the various requirements related to architecture, urban planning, project management, cost control, communications, and more.  In all, a team of over 35 people contributed to one or more aspects of the project.
Quietly powerful
Knowing that the equipment that was installed is both huge and powerful, one can wonder if it is also noisy. Actually, and this may come as a surprise, very little noise emanates from the ventilation station when it is in operation. Why? High-performance noise suppressors that reduce the noise level to 50dB, roughly the equivalent of the dishwasher in your kitchen.
Texte important
Numbers that say it all    
More than 12,000 cubic metres of rock and soil were removed to build the ventilation station, the equivalent of five Olympic-size swimming pools.
The noise suppressors weigh almost 30,000 kg, equal to more than five elephants.
Noice suppressors installed close to the ventilators
The design allows for the future development of a real estate project above the existing building. . 
FAQ
Step 1
Preparation of the work site
Installation of the jobsite partitions
Installation of equipment
Main equipment used:
Truck, crane, hydraulic drill, and compressor
Approximate construction timeframe: 1 month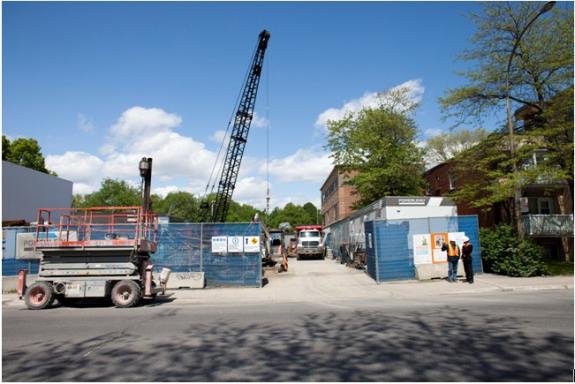 Step 2
Mechanical ventilation station excavation
Surface excavation
Soil excavation over bedrock (approximate volume 4300 cubic metres) Drilling through rock to determine the well perimeter to excavate
Excavation below ground level
Drilling and smaller scale dynamiting (approximate volume 4800 cubic metres)
Extracting rock pieces
Main equipment used:
Drill, crane, excavator, truck and fan
Approximate construction time frame: 11 months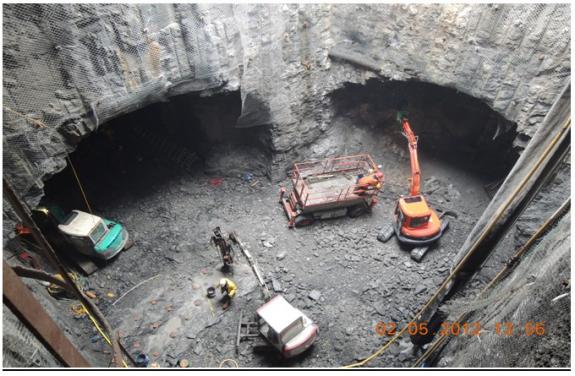 Step 3
Concrete work for well and gallery construction
Reinforcement of rockface (concrete work floors, walls and ceiling)
Main equipment used:
Concrete mixer and concrete pump
Approximate construction time frame: 7 months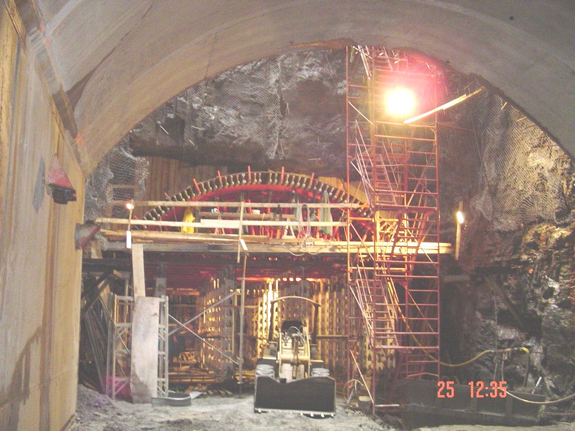 Step 4
Installation of mechanical and electrical equipment
Equipment delivery to work site
Lowering of equipment into the well
Installation of equipment
Performance tests on mechanical equipment
Main equipment used:
Crane and delivery trucks
Approximate time frame: 3 months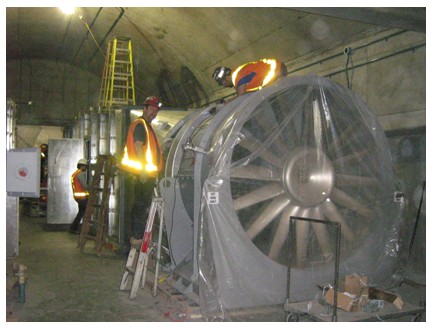 Step 5
Architectural finishes and landscaping
Construction of exterior building. All traditional construction tradesmen necessary to build the exterior structure are involved, such as framing carpenters, carpenters, bricklayers, roofers, glaziers and landscapers.
Main equipment used:
Truck, forklift, scaffolding, and boom
Approximate construction time frame: 2 months
From outside, the building appears to be modestly-sized. Inside, a tunnel links the shaft to the métro tunnel. In that tunnel are two large fan units along with noise-dampening walls.
The métro network currently has 88 mechanical ventilation stations. Ventilation units are required between each metro station.
Yes, the project consists in replacing the old mechanical ventilation station built around 1966 and located at 303 Viger St. West. The new station will be built on a small section of the parking lot next to 425 Viger St. More efficient, the unit will conform to new safety standards, while improving the supply of fresh air for commuters and metro employees.
In order to meet current safety standards and the City of Montréal's noise by-laws, the ventilation station would need to be significantly expanded. And because the current unit is integrated into another building's main floor, using the same site was impossible.
The parking lot was selected after an in-depth analysis of four potential sites. Also, the nearby Highway 720 tunnel south of Viger St. makes it impossible to build on that side.
A ventilation station must also be located next to the métro tunnel, about halfway between the two metro stations it serves.
No. These ventilation units are equipped with powerful noise suppressors. Once operational, noise emissions will comply with municipal regulations. The noise level around the structure will not exceed 50 decibels when both units are operating together at full capacity (an exceptional situation). That noise level is so low that it cannot be heard over a normal conversation or normal ambient noise in the area. The units will be installed under Hermine St, one 9 metres and the other 15 metres below ground.
No, a ventilation station produces no contaminants. Rainwater or snow falling into the ventilation shaft will be collected by the métro pumping system and released into the municipal sewage system.
No. A mechanical ventilation station with its equipment cannot be transformed into a métro station entrance.
Top of page