Henri-Bourassa

Henri-Bourassa station refurbishment
Reopening of the Berri entrance building
As of 23 September 2019, the Berri entrance building will reopen its doors. The stops for lines 55, 69, 164, 164, 171, 363 and 380 in front of the Berri entrance building will again be in operation.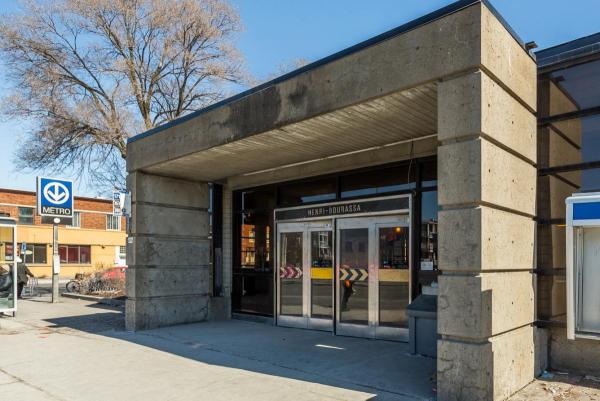 Frequently asked questions
The stops for lines 55, 69, 164, 171, 363 and 380 in front of the Berri entrance building will be cancelled during the work. Buses will continue to the east entrance building (at 600 Henri-Bourassa) and drop off passengers there. The map below shows you where to access the station during the closure of the entrance building.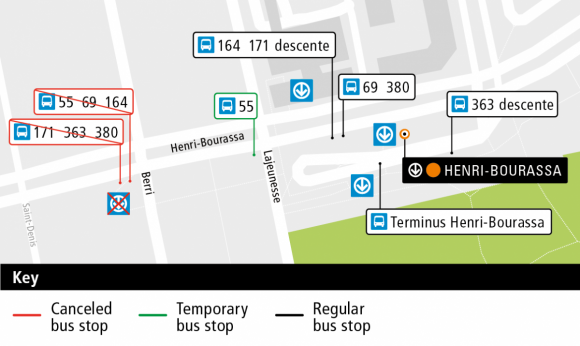 Refurbishment of three staircases leading to the platforms
Replacement of wall finishes
Renewal of floor coverings
Modernization of the lighting
Roll-out of the new signage
Reconstruction of the structural slabs of the Berri entrance building
Refurbishment of the entrance building's roof
From April 1 to July 19, 2019, the traffic lane on Berri Street in front of the entrance will be reduced by a construction bulkhead. The bike path will be maintained at all times
Most of the work will be performed inside the entrance building. To demolish the structural slabs, however, we will need to use equipment that could generate noise from time to time. In general, the work outside the building will happen between 7 a.m. and 7 p.m., in accordance with municipal by-laws.
Partitions have already been installed on the platforms and elsewhere in the station. One of the staircases leading to the Côte-Vertu platform is partially closed. Also, one of the staircases leading to the Montmorency platform is completely closed but another is available.
Yes, the elevator will remain accessible at all times, as it is not in the entrance building that will be closed.
The work on the Berri entrance building is scheduled to be completed on September 23, 2019. And the work in the rest of the station is expected to be completed in December 2019.
Since the very beginning of the work, we have been working to expand a service tunnel, which houses various equipment and cabling. Although this area is not accessible to the public, the work is necessary to meet current needs better. Also, the floor finishes on the walkway and some wall coverings have been replaced. Lighting on the platforms and the walkway is also being modernized.
To reduce the impacts on your trips...
We scheduled the work over a period of nearly two years to minimize the impacts on your trips.
---
This work is made possible through funding from the ministère des Transports du Québec.
Top of page