Bishop mechanical ventilation station

Texte important
Work will soon be finished
The construction work on the STM's Bishop mechanical ventilation station will soon be finished, six months earlier than the expected date, near the beginning of July 2019.
Next steps:
Starting June 1, 2019, the work area will be reduced. The worksite fencing set up on Bishop Street will be removed, except for the part between the alleyway and Saint-Catherine Street. 
The part that will remain set up will allow us to finalize some minor work. It will, however, be completely removed near the end of June 2019.
---
In the coming weeks, a private developer will start building a real-estate project on the same site as the Bishop MVS. Although this project, which will last approximately one year, will start at the same time as the remaining work on the Bishop MVS will end, it is totally independent of the STM's work site and métro network.
CONSTRUCTION OF THE BISHOP MECHANICAL VENTILATION STATION FOR THE MÉTRO
As part of our program to refurbish métro infrastructure and equipment, we are currently building the Bishop mechanical ventilation station, on its namesake street between De Maisonneuve and Sainte-Catherine.
The new structure will be built on the site of the parking lot next to 1421 Bishop, replacing the older De la Montagne ventilation station set to be dismantled once the new one is operational. The new Bishop ventilation station will serve the Green line, between Peel and Guy-Concordia stations.
This traffic plan is in effect:
Car traffic:
Car circulation on Bishop, between Sainte-Catherine and De Maisonneuve, will be restricted to a single lane, the one bordering the west side of the street and that is currently used for on-street parking (opposite construction site).
On-street parking lanes on each side of Bishop will be eliminated between Sainte-Catherine and De Maisonneuve. In all, some forty metered parking spaces will be cancelled while work is underway.  
Part of the alleyway between Bishop and Crescent will be closed to car traffic.
The private parking area in the work zone will no longer be accessible.
Pedestrian traffic:
The sidewalk on the east side of Bishop adjacent to the work zone will be closed. Using the sidewalk on the west side (opposite construction site) of Bishop is recommended.
Cyclists:
In light of the overall size of the work area, we recommend that cyclists proceed with great care and even avoid using that portion of Bishop St.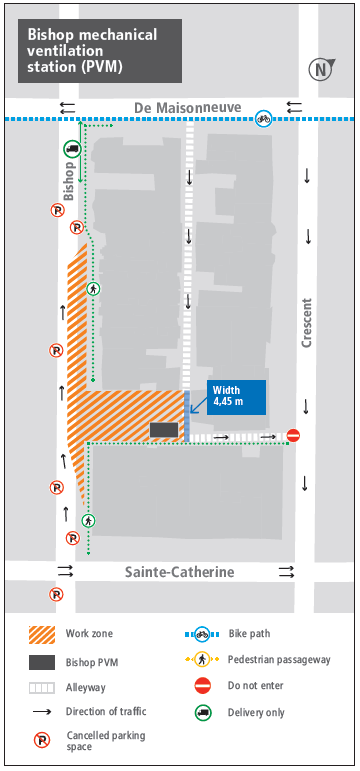 Businesses are open during construction
There are many businesses on Bishop street such as restaurants, cafés and pubs. All businesses are staying open during construction, please stop by!
Frequently Asked Questions
Construction work should take about 42 months. According to our schedule, work starts in October 2016 and should be completed by mid 2020.
Any construction work likely to generate noise will be scheduled between 7 a.m. and 7 p.m. weekdays. In accordance with municipal regulations, some work may at times continue over the weekend, to keep up with the time frame for construction. Should that happen, notification for weekend work will appear in the Works section of the stm.info website and sent out to residents who signed up for the electronic newsletter.
Excavation work required for construction will produce vibrations that could be felt by residents living next to the work site. As a way of ensuring these vibrations do not damage adjacent properties, buildings located near the work site will be inspected before work starts and, if needed, after it is completed. All inspections are performed by a specialized outside firm.Property owners concerned by this preventive measure will be notified accordingly. 
A traffic and signage plan was prepared jointly by a firm of experts with representatives from Ville-Marie borough, the City of Montréal, Transports Québec (MTQ), public security and the Montréal fire department. The plan will minimize the impact of construction on the movement of cars, cyclists, pedestrians and emergency vehicles.
Mechanical ventilation stations serve three essential purposes: 
Comfort ventilation: Regulates the ambient temperature and supplies fresh air for transit users by exchanging air from the outside with air inside the métro network. In summer, ventilation allows for the extraction of a portion of the heat generated by the acceleration and braking action of métro cars.
Night-time ventilation: Ensures a supply of fresh air for night workers carrying out routine maintenance. These workers rely on diesel-powered vehicles to get around, as electrical power to the tracks is shut off at night.
Emergency ventilation: In the event of an incident, allows for smoke control and provides a safe evacuation route for passengers, as well as unobstructed access for emergency first responders.
There are currently more than 80 mechanical ventilation stations across the métro network. A mechanical ventilation station is required along each portion of network between two stations.
Yes. There is an existing station on De la Montagne. Built in 1966, the station has now reached the end of its service life and must be replaced. Our project consists of building a new, quieter and more efficient ventilation station that meets with new safety standards and complies with City of Montreal noise bylaws.
No. Essentially, a mechanical ventilation station serves to exchange the air breathed by transit users inside the network with outside air, ensuring a supply of fresh air.
No. There are no specific contaminants in a mechanical ventilation station. Rainwater or snow falling into the ventilation shaft will be collected by the métro's water-pumping system and released into the municipal sewage system, as already happens throughout the métro system.
No. Once the ventilation station is operational, the noise it emits will comply with municipal bylaws. Installed below ground, the ventilators are equipped with powerful noise suppressors. The noise level outside the building will not exceed 50 decibels, even when both ventilators are operating at full capacity, which is unusual. Even then, the station's noise level would be about as much as that of a household dishwasher. In fact, it is so low that normal conversation between people or just the area's ambient noise would easily cover it.
In this case, micro-blasting is the fastest, most efficient way to proceed. Another option would have involved jackhammers. However, in light of the amount of rock that needs to be excavated, jackhammers would not have been very efficient, would have taken more time, and been much more annoying, as their noise is constant.
No. A mechanical ventilation station does not have the necessary infrastructure to be transformed into a métro station. Besides, no such plans are ever made. 
Stay informed!
Sign up for an electronic newsletter by sending an email to reno.metro@stm.info with Bishop as subject. You'll receive updates about how the progress of construction and other special events. 
---
Work is made possible thanks to funding from the ministère des Transports du Québec and by Infrastructure Canada as part of the Canada-Québec Building Fund.
Top of page