Alexandre-DeSève mechanical ventilation station

Texte important
Micro-blasting work
On November 29, 2018, we will start micro-blasting work to break up the rock for the construction of the Alexandre-DeSève mechanical ventilation station.
Safety measures
The construction site is already fenced off, and the micro-blasting will be done within its perimeter.
Blasting mats are installed over the rock to contain the micro-blasts.
Safety instructions are posted around the site.
No explosives are stored on site.
Vibrations are monitored to ensure compliance with the standards established by the City of Montréal and the STM.
Carbon monoxide detectors are installed in specific locations.
 Micro-blasting procedure
12 short whistle or siren sounds
30-second wait
Micro-blast
1 long whistle or siren blast
End of blasting
 You may hear the micro-blast or even feel it. This is completely normal when this process is used.
 Work schedule
The work schedule follows the by-law established by the City of Montréal.
As part of our program to refurbish métro equipment, starting in March 2018, we will undertake construction of the Alexandre-DeSève mechanical ventilation station, located on rue De Champlain between De Maisonneuve and Sainte-Catherine. The new structure will replace the older Plessis ventilation station, set to be dismantled once the new one becomes operational.
Will the work site interfere with pedestrian and car traffic?
A traffic plan will be implemented. Flagmen will be present during truck trips on the construction site at the intersection of De Champlain and De Maisonneuve streets.
Car traffic :
The entrance to TVA's parking lot on rue De Champlain will be moved to rue Papineau.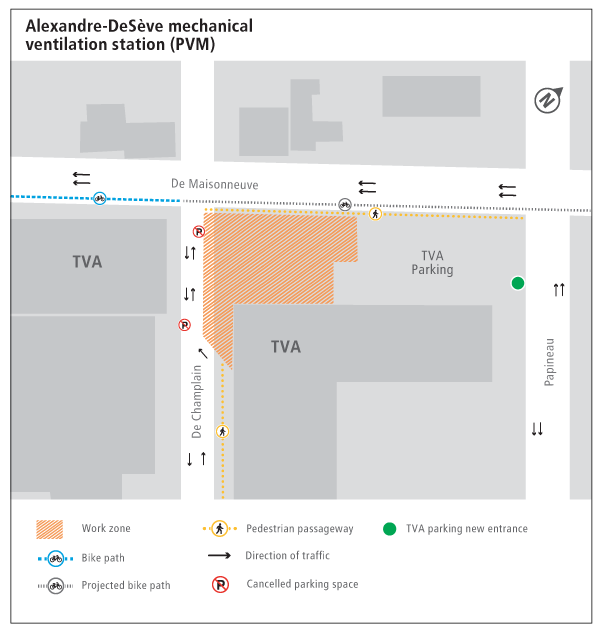 Construction work should take about 36 months. According to our schedule, work will begin in March 2018 and should be completed in winter 2021.
Any construction work likely to generate noise will be scheduled between 7 a.m. and 7 p.m. weekdays. In accordance with municipal regulations, some work may at times continue over the weekend, to keep up with the time frame for construction. Should that happen, notification for weekend work will appear in the Works section of the stm.info website and sent out to residents who signed up for the electronic newsletter.
Excavation work required for construction will produce vibrations that could be felt by residents living next to the work site. We have hired an independent consulting firm to survey all buildings (photographs) around the work site. These inspections will serve to document the condition of buildings before and after construction. In the unlikely event that any damage is reported, an expert opinion could help to determine if the damage is the result of the vibrations produced by our construction. Property owners concerned by this measure will be notified accordingly.
A traffic and signage plan was prepared jointly by a firm of experts with representatives from Ville-Marie borough, the City of Montréal, the Ministry of Transport, Sustainable Mobility and Transportation Electrification, public security and the Montréal fire department. The plan will minimize the impact of construction on the movement of cars, cyclists, pedestrians and emergency vehicles.
1. Preparation of work site
Fencing off the work area
Installing work equipment
Approximate timeframe: 2 months
2. Excavation of ground at ground level
Approximate timeframe: 5 months
3. Excavation in the rock bed
Micro-blasting will be required to break into the rock bed
Approximate timeframe: 12 to 14 months
4. Installation of a membrane to ensure water-tightness of all infrastructure
Approximate timeframe: 2 months
5. Concrete work for ventilation station
Concrete work for all infrastructure
Approximate timeframe: 9 months
6. Installation of mechanical and electrical equipment, as well as architectural finishes and landscaping
Delivery of equipment to work site
Installation of equipment
Performance testing on mechanical equipment
Construction of ventilation station's external structure
Approximate timeframe: 4 months
Mechanical ventilation stations serve three essential purposes:
Comfort ventilation: Regulates the ambient temperature for customers by extracting warm air inside the métro network.
Night-time ventilation: Ensures a supply of fresh air for night workers carrying out routine maintenance. These workers use diesel engine vehicles to get around, as the power supply to the tracks is cut off at night.
Emergency ventilation: In the event of an incident, allows for smoke control and provides a safe evacuation route for passengers to the nearest métro station, as well as unobstructed access for firefighters
Yes. There is an existing station on De Maisonneuve. Built during the second half of the 1960s, the station has now reached the end of its service life and must be replaced. Our project consists of building a new, quieter and more efficient ventilation station that meets with new safety standards, as well as City of Montréal regulations pertaining to noise levels. 
No. Essentially, a mechanical ventilation station serves to exchange the air breathed by transit users inside the network with outside air,censuring a constant resupply of fresh air.
No. There are no specific contaminants in a mechanical ventilation station. Rainwater or snow falling into the ventilation shaft will be collected by the métro's water-pumping system and released into the municipal sewage system, as already happens throughout the métro system.
No. Once the ventilation station is operational, the noise it emits will comply with municipal bylaws. Installed below ground, the ventilators are equipped with powerful noise suppressors. The noise level outside the building will not exceed 50 decibels, even when both ventilators are operating at full capacity, which is unusual. Even then, the intensity of the station's noise level would be comparable to that of a household dishwasher. In fact, it is so low that normal conversation between people or just the area's ambient noise would easily cover it.
In this case, micro-blasting is the fastest, most efficient way to proceed. Another option would have involved jackhammers. However, in light of the amount of rock that needs to be excavated, jackhammers would not have been very efficient, would have taken more time, and been much more annoying, as their noise is constant.
No. A mechanical ventilation station does not have the necessary infrastructure to be transformed into a métro station. Besides, no such plans are ever made.
---
This work is made possible through funding from the ministère des Transports du Québec.
We are aware that construction work may cause you some inconvenience. Rest assured we are taking all necessary measures to lessen the impact on your daily activities.
Stay informed!
Keep informed about how construction is progressins and other special events
Sign up for an electronic newsletter by sending an email to reno.metro@stm.info with  « PVM Alexandre-DeSève » as subject
Click here to know how to contact us
Top of page