Fall 2017 network improvements
Here are the service improvements that will come into effect on August 28, 2017:

49 - Maurice-Duplessis 
More buses during rush hour (morning and afternoon) between Henri-Bourassa station and Cégep Marie-Victorin.

55 - Boulevard Saint-Laurent
Bus route extension to Henri-Bourassa station.
Starting next August 28, the 55 – Boulevard Saint-Laurent bus line will be improved as its route will be extended to Henri-Bourassa station. This change eliminates the need for transfers between the 55 and 53 bus lines, in addition to providing an uninterrupted bus link with the Orange line along boulevard Saint-Laurent. Access to Ahuntsic-Cartierville borough, specifically the Chabanel area, will also be easier.

170 - Keller 
New terminus stop at the corner of Jean-Bourdon and Louis-Jadon to improve access for the residents of this area.

178 - Pointe-Nord / Île-des-Soeurs 
Extended bus route on Nuns' Island.
Starting August 28, 2017, the route taken by the 178 – Pointe-Nord/Île-des-Sœurs will be extended to run along Place du Commerce, chemin du Golf, boulevard Marguerite-Bourgeoys and boulevard de l'Île-des-Sœurs in both directions. Furthermore, the bus line's operating hours will be expanded from 6 am to 9 pm, with buses running more frequently during rush hour.
Thanks to these improvements, our customers on Nuns' Island will enjoy an enhanced transit experience with better access to services, less complicated routes and enhanced service to and from downtown, as well as better service on week nights.
The map below provides an overview of the new bus route: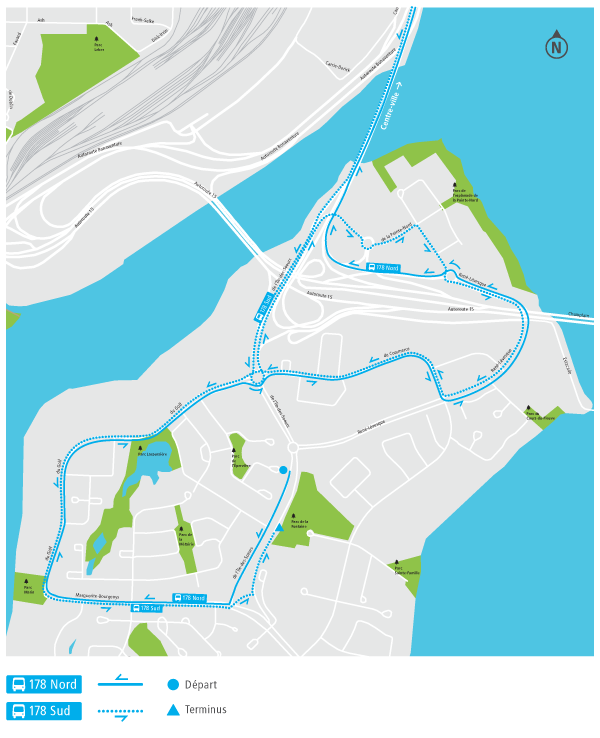 449 - Express Rivière-des-Prairies
et 428 - Express parcs industriels de l'est 
A simplified route for the 449 bus line and creation of the 428 bus line.
With a view to providing its customers with better service, we created the new 428 bus line to exclusively serve the industrial parks in the east end of Montréal during rush hour. Transit users in the area will also appreciate the 449 bus line's simplified route, as it will now run in both directions on boulevard Perras throughout the day and ending at the Gare Rivière-des-Prairies. Moreover, the 428 bus line will be an alternative for those who use the 28 – Honoré-Beaugrand bus line to go in the industrial parks area.
See the map below for an overview of the new bus routes: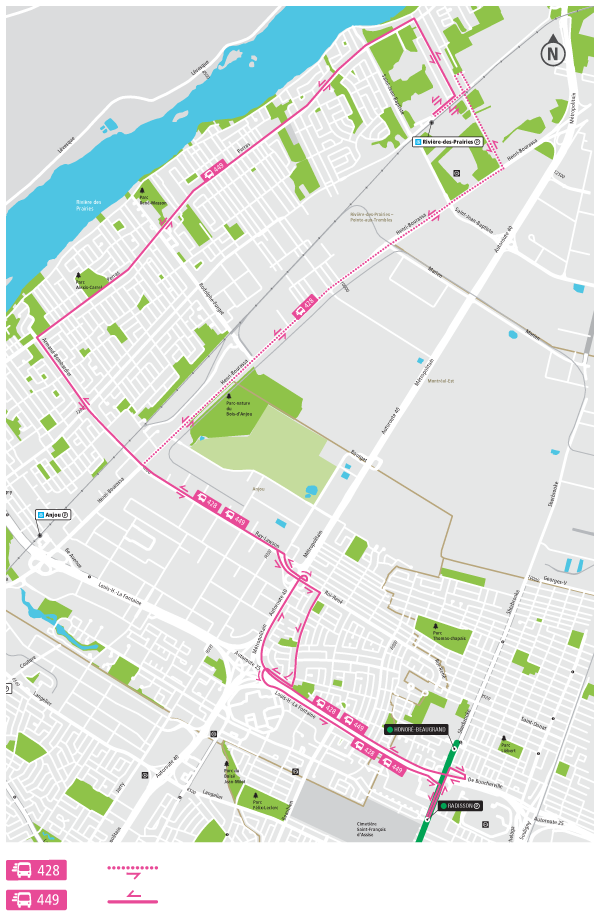 Such service enhancements mean a number of benefits for area residents and workers, including:
A faster route for commuters riding the 449 bus
Direct access to both industrial parks from Radisson station
Fewer stops between work and home
An additional option to go to the industrial parks area (428)
These new changes will take effect August 28, 2017.
Top of page