Partnerships
A new approach to transportation
The concept of combined mobility promotes a smart combination of individual means of transportation (walking, cycling, driving) with collective modes (bus, métro, taxi, shared taxibus, carpooling and car sharing) for your mobility needs. We've reached partnership agreements with various transportation providers (self-serve bike system, car sharing firms, etc.) with whom you can enjoy preferential rates.
COMBINE BUS, MÉTRO, CYCLING AND CAR SHARING
An economical, efficient and environmentally-friendly solution to your mobility needs.
Bus + métro + bike + car = savings!
As a public transit user, you can enjoy specially-designed offers. 


BIXI
BIXI on OPUS
You can now easily rent a BIXI bike with your OPUS card!
With your valid OPUS card, register on BIXI's website(Become a member --> OPUS). Once your form is filled out, your OPUS card becomes instantly valid at the bike-sharing system's 540 stations. You can then go to any payment terminal and get the code to unlock a bike with the new contactless card readers.
A perfect option for occasional BIXI users
You can take as many one-way rides lasting 30 minutes or less as you want, for only $2.95 each, taxes included. Read about bike rates on BIXI's website.
Not only is obtaining a rental code for a BIXI bike at payment terminals even faster, this new contactless payment method requires no safety deposit.
Are you a regular customer? Take advantage of monthly and annual subscriptions to BIXI. Combined with STM's monthly or annual passes, they open the way to even more savings!
BIXI keys at our customer service centres
You don't have a key? BIXI keys are available at our customer service centres located at the Jean-Talon, Berri-UQAM and Lionel-Groulx stations. You can pick one up there and activate it immediately by calling BIXI or by filling out the online form.
View bike availability with our tools
You can see if BIXI bikes are available on the home page of our website and on our mobile app.
On our website:
Click on the BIXI pictogram on right side of map to display bicycle stations. Then click on a specific station (red dots) and the information will appear on-screen.
With our app:
Go to route options, select BIXI Stations. The stations will appear on the map.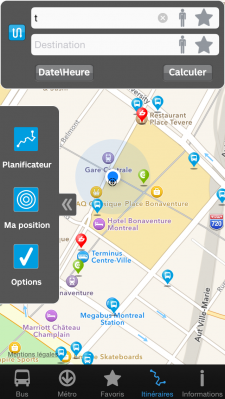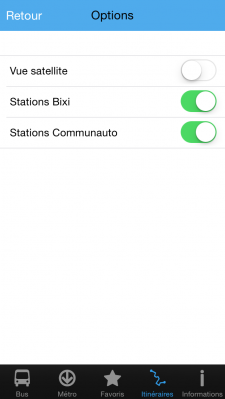 Communauto
Use your OPUS card to access Communauto vehicles
Your OPUS card allows you to easily and quickly access all Communauto vehicles. For cars available without a reservation (service Auto-mobile), OPUS is even mandatory!
To take advantage of this option, register your OPUS card in your Communautoaccount. Afterwards, simply slide your OPUS card over the card reader on the driver's side of the windshield to unlock the door and disarm the ignition locking device. 
For more information, to go Communauto
Passeport Mobilité
A gift of sustainable mobility to new condo buyers
Fully aware of the trend toward sustainable mobility, the STM has chosen to be a partner in the Passeport Mobilité program to promote the use of other modes of transportation as alternatives to car use among the general public. 
Learn more about the Passeport Mobilité program.

Taxi industry
With the help of our partners in the taxi industry, cars are also part of the mix!

Contrary to what you might think, taxis are not the STM's competitors. The services offered by Montréal taxi companies add to the mix of alternative modes of transportation. For this reason alone, taxis deserve to be included in our transportation cocktail. But there's more!

The participation of the taxi industry allows us to better serve our clients. With their help, the STM is able to offer a shared taxibus service in ten areas where the low population density makes a bus service impracticable. The collaboration of taxi companies also contributes to our paratransit program. In fact, taxis are used for 88% of paratransit trips.
So we can say without hesitation that taxis are also part of our "Society in Motion."
Top of page