Three existing bus garages expansion
Saint-Laurent bus garage
The Saint-Laurent bus garage expansion is part of the STM's strategies for accommodating the 300 new hybrid buses that will start arriving in 2020.
The expansion will be built on the current employee parking lot, and employee parking will be relocated underground.
The expansion will provide enough space to accommodate and maintain 52 new hybrid buses. The expansion will also include room for the equipment needed to maintain and charge fully electric buses. That will allow us to meet future needs surrounding electrification of the bus network.
Work
Phase 1: Expansion of the bus garage. Excavation on the current parking lot will begin in the summer of 2019, followed by construction until the end of 2020.
Phase 2: Reorganization of part of the maintenance areas for the current buses.
Phase 3: Addition of a third fuelling bay inside the bus garage. Phases 2 and 3 will be deployed inside the existing facilities.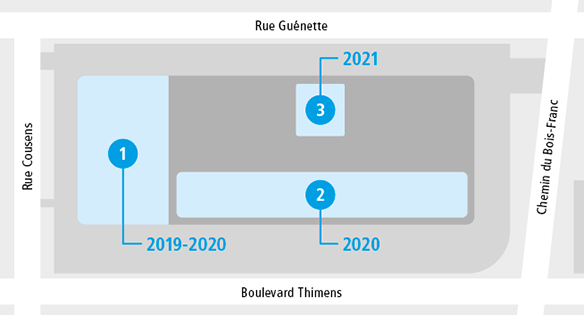 Construction work likely to generate noise will normally be scheduled between 7 a.m. and 5 p.m. In accordance with municipal by-laws, some work may continue over the weekend to keep the construction on schedule.
Noise and vibration levels will be monitored throughout construction.
An air quality study will be done and mitigation measures will be implemented to ensure the comfort of area residents.
A traffic plan for cars and trucks will be put in place to keep traffic in the sector as smooth flowing as possible.
The equipment integrated into the facilities will be subject to strict rules regarding noise levels and will comply with the standards set by the Borough. The buses that will be added at the garage will be hybrid buses, which are quieter than diesel buses.
Traffic impact
No. No streets will be blocked.
Yes. It will be maintained at all times.
As much as possible, we want the trucks to use Thimens Boulevard.
During the work, buses will enter and exit via the entrance on Chemin du Bois-Franc. Once the bus garage expansion is completed, buses will enter via Cousens Street.
Legendre bus garage
More information to come.
Anjou bus garage
More information to come.
Top of page