Blue line extension

A major public transit development project
The Bureau de projets prolongements et grands projets métro is getting work underway. Here are the key points of this major public transit development project.
A few numbers…
5 new accessible métro stations and 5.8 kilometres of tunnel
2 bus terminals and 1 park-and-ride lot with 1,200 spaces
1 underground pedestrian tunnel providing a link to the future Pie-IX BRT
Several operational infrastructures: 6 auxiliary structures housing operational equipment, 1 power station, 1 métro garage, 1 attachment centre for housing track maintenance vehicles and 1 service centre for infrastructure maintenance
Estimated budget: $3.9B
Proposed extension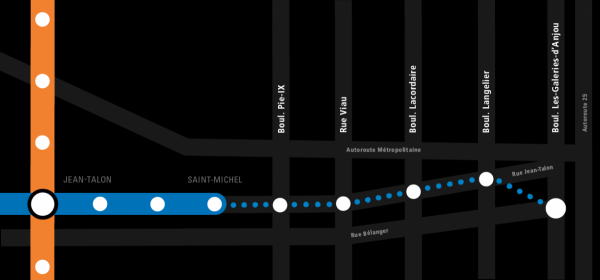 Preliminary timetable
Early 2019: Begin designing plans and specifications
Spring 2019: Approve implementation method, budget plan and project scope
Summer 2019: Geotechnical study to collect rock data
Early 2020: Start zoning change and public consultation processes
Spring 2020: Start preparatory work on certain sites
2021: Submit business case and begin building new infrastructure
2026: Inaugurate the new line
Frequently asked questions
The STM will act as the principal contractor and project manager. As operator of the Montréal métro for the past 50 years, the STM has expertise and experience that will benefit the project.
For the moment, no. Delivery of additional AZUR trains for the Green line will allow the STM to deploy more MR-73 trains on other lines. The MR-73 trains will run on the Blue line (current line and extension) until 2036, when the MR-73s will reach the end of their useful life.
Currently, it is not possible to have trains with more than six cars on the Blue line, specifically due to the configuration of the Saint-Michel station platform. After the extension in 2026, all Blue line stations will be adapted to accommodate nine-car trains, but, for now, the métro operation plan does not include running nine-car trains before 2036, when the AZUR trains will arrive on the Blue line. This could, however, change depending on ridership data.
With the acquisition of the AZUR cars and the construction of the Côte-Vertu garage, there will be an increase in the service offer on the Orange line in terms of capacity and frequency. The interval between trains on the Orange line will be two minutes instead of two minutes and 30 seconds during peak periods. Additionally, other major projects should mitigate the impact for Orange line users:
The Pie-IX BRT, when completed, should provide a connection between the Green line and the extension of the Blue line.
A connection with the REM is planned for Édouard-Montpetit station to ensure a link with downtown.
Yes, the new stations will be universally accessible and consequently equipped with elevators.
The names for the new stations have not been selected and will be subject to a process defined by the STM in due time.
---
This work is made possible through funding from the ministère des Transports du Québec.
Top of page