Complementary information regarding fares
Complementary information regarding fares
The STM bases its fare indexation on a number of criteria, including that of keeping the share of passenger and autonomous revenues at roughly 50% of its operating budget. Fare indexation by other metropolitan transit service providers is also taken into consideration, as well as the impact of fare increases on ridership. Furthermore, a benchmarking exercise is carried out each year to ensure STM fares are among the lowest in Canada and North America. Other criteria factored into the fare equation are the transportation and consumer price index (CPI Montréal), service offer improvements and the investments needed to renew its assets.
From 2008 to 2016, the cost of a full-fare monthly pass has increased by an average 3.2% a year, while the cost of a reduced fare pass went up 4.8%. Yet, if you take into account the average annual increase in the consumer price index in Montréal over the same period, the actual increase is only 1.5% and 2.6% respectively. The reduced fare's steeper increase will help to reach the goal of limiting to 40% the discount offered to reduced fare customer groups set by the board of directors.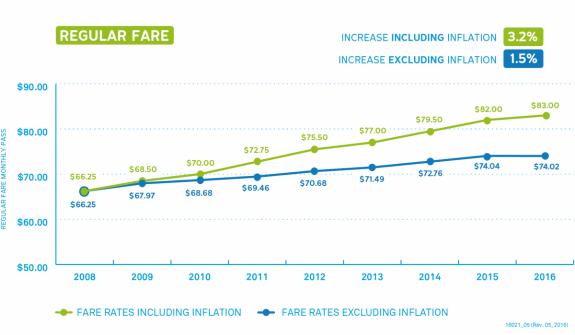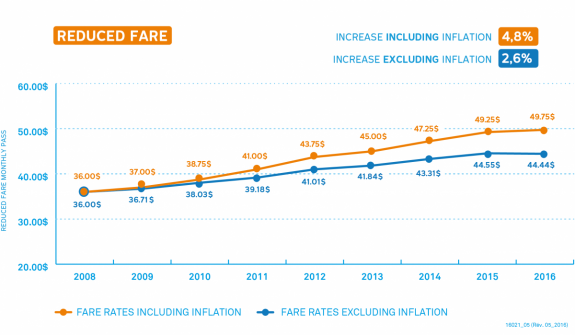 While the consumer price index in the Montréal area is about 2% a year, the more specific transportation price index fluctuates more as it is subject to the price of gas, which has been rather volatile in the last few years. When discussions about fares start, the STM uses variations in both prices indices as one of the criteria for indexing fares. At April 30, 2016, the consumer price index (CPI) was 1.3%.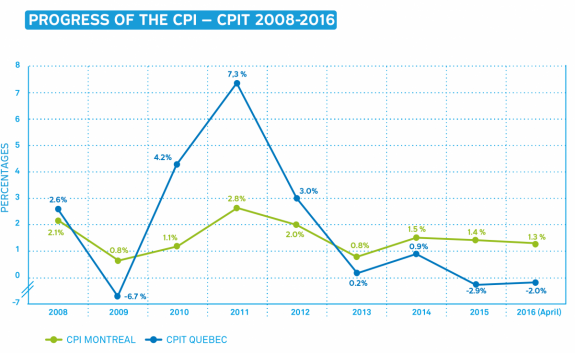 From 2008 to 2015, the STM's offer of service has grown 9.5% to reach 161.8 million kilometres. In 2016, bus service will grow by another 1.1 million kilometres, with 1.2 million kilometres added to métro service, raising its level of service to 164.2 million kilometres. Furthermore, by 2018, a total of 52 AZUR trains, each one consisting of nine cars, will be operating in passenger service.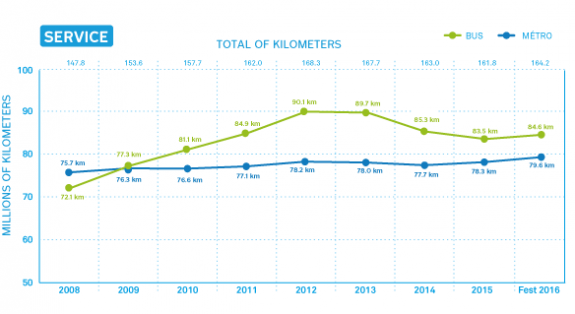 Is public transit too expensive in Montréal?
Yet, when comparing the 2016 cost of a monthly fare in major Canadian cities with the metropolitan area, Montréal offers the least expensive, for both regular and reduced fares. Montrealers also need to work fewer hours at the minimum wage to procure a monthly pass.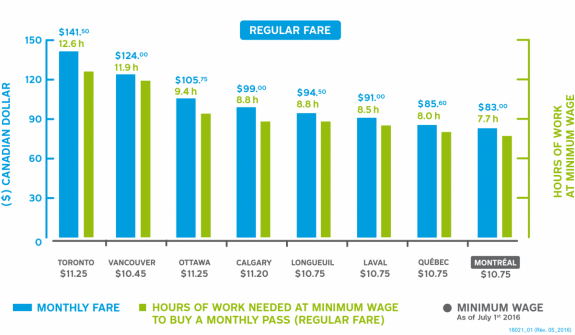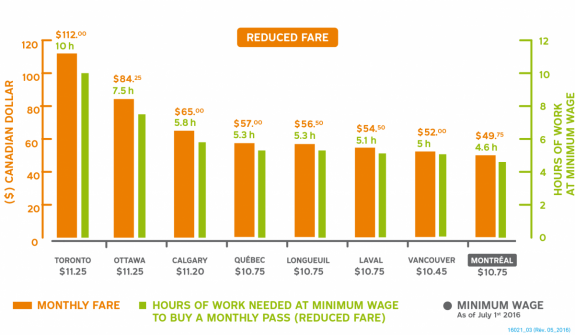 The STM must invest massively to maintain and renew its assets. Large-scale projects, currently underway or upcoming, include refurbishing all 68 métro stations, purchasing 450 new métro cars, and the retrofitting all garages to house and maintain the new buses that will be added to the fleet over the next few years.
Top of page